Become an Organizer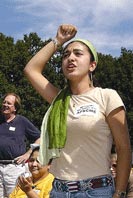 Decent health care. Better pay and benefits. Dignity and a voice. There are plenty of reasons to join a union today. But many people don't have a union where they work. That's why we have to join together and find power through organizing.
AFSCME organizers are committed to helping workers gain power on the job.
Organizing isn't easy. It takes guts to stand up for our rights on the job. It takes lots of one-on-one conversations at work and at home to build our organization. It takes talented and committed organizers who know the ropes and are willing to work hard.
But it's also rewarding. When we stick together, have faith and overcome fear, we are an inspiration to our families and our communities.
When we win — and there's no feeling like it — we make the world a better place for all.
What it takes:
A commitment to social and economic justice and grassroots organizing
Leadership experience
An ability to empathize with workers and move others to action
A desire and willingness to travel extensively
A desire to work long hours, nights and weekends in order to achieve campaign goals
A valid driver's license