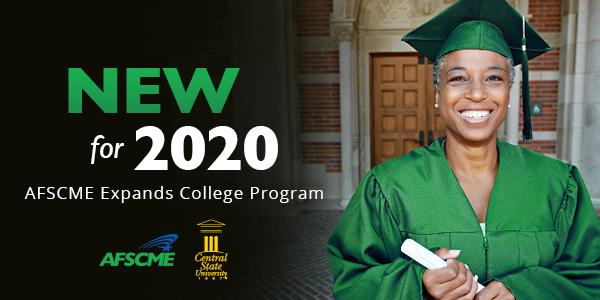 AFSCME is introducing an online bachelor's degree completion program exclusively for members and their families that will cost a fraction of regular college tuition.
Partnering with Ohio's Central State University, a regionally accredited, public university, AFSCME members, active retirees and their eligible family members can now complete an online bachelor's degree at a greatly reduced rate.
The program, which starts Jan. 13, allows people who have already completed associate degrees, or who have 60 credit hours towards degrees in business management or teacher education (the two majors that are currently being offered by CSU), attend CSU at a highly discounted cost.
Students who have earned an associate degree outside their intended major will begin with AFSCME Free College at Eastern Gateway Community College (EGCC) at no out-of-pocket cost and then transfer into the bachelor's degree completion program at CSU.
Eligible students must complete the Free Application for Federal Student Aid (FAFSA) and use any federal or state grants, as well as any employer or union-sponsored tuition assistance. Then, a Student Success Grant will be applied toward tuition, fees and books so that the most a student will pay out of pocket annually would be $4,500 ($187.50 per credit hour), which is only a third of the national average.* For many, it will be significantly less, or even free (depending on available federal grants).
Studies show that financial challenges are the No. 1 factor in whether a student earns a college degree. Other key features of the program include:
Credits can transfer to other schools;
Advising and tutoring are available to support students;
Classes begin every eight weeks;
Available to AFSCME members and retirees, as well as their spouses, children (or stepchildren) and grandchildren (or step grandchildren), domestic partners, parents, siblings and financial dependents;
Students can attend full time or part time and can take as few as one class per term.
Though CSU, established in 1887, is a nonprofit public institution in Ohio, students can enroll in the online bachelor's degree program from anywhere in the country. CSU is "transfer-friendly" and accepts as many previous credits as possible from students, for no charge. And because CSU is public and regionally accredited, CSU credits generally transfer to other institutions.
With the cost of college continuing to rise and the number of people saddled with student loan debt also increasing, AFSCME's new bachelor's degree completion program is a great, flexible option. Additional degrees will be added in 2020.
–
*The students' final out of pocket cost is based on CSU's current tuition and fee schedule. In the event of a future tuition and/or fee rate change, advanced notice will be provided.