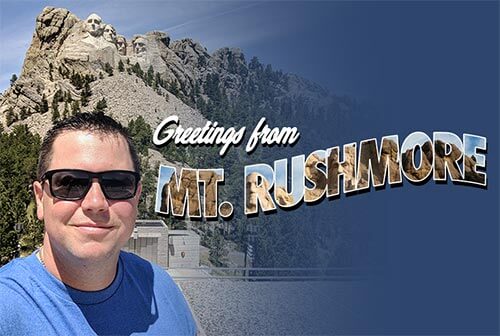 A post-college road trip is a common rite of passage for new graduates.
However, for John Caudell, a criminal investigator for the County of Hawaii and a member of HGEA, his post-college celebratory road trip occurred as a 30-year-old, and his journey led him from his home state of Hawaii to his own college graduation ceremony in Ohio. There, he was one of 34 AFSCME members who donned a cap and gown to receive diplomas from Eastern Gateway Community College.
"When I saw the email for AFSCME Free College in 2016, it was hard to believe it was free," said Caudell, who majored in criminal justice. "I signed up and started classes almost the same month."
As a full-time employee, Caudell knew flexibility would be essential.
"The best part about the school is that it works with your schedule," he said. "It's 100 percent online and self-paced. The professors know that people are working full time, so they're very understanding."
Caudell found returning to the basics, including core classes like math, English and American government, refreshing after years out of school.
"A lot's changed since I was in high school, and I learned a lot of new things," he said.
Pursuing college more than a decade after high school, and spending more than one all-nighter spent completing homework, Caudell didn't want to squander the opportunity to celebrate his accomplishments.
So, he and a friend flew from Hawaii to Portland, and then set out for Steubenville, Ohio, where Eastern Gateway Community College's – AFSCME Free College partner – graduation ceremony was held. There, he met other AFSCME graduates who traveled from their home states to attend graduation.
All told, the round-trip journey took him 5,600 miles and 12 days, but the journey was well worth it to meet his classmates and fellow union sisters and brothers, and to attend his first college graduation ceremony.
Since AFSCME Free College was launched in 2016, more than 7,100 AFSCME members and their families have taken advantage of the benefit. The program has awarded millions of dollars in scholarships. To date, 188 AFSCME students have graduated.