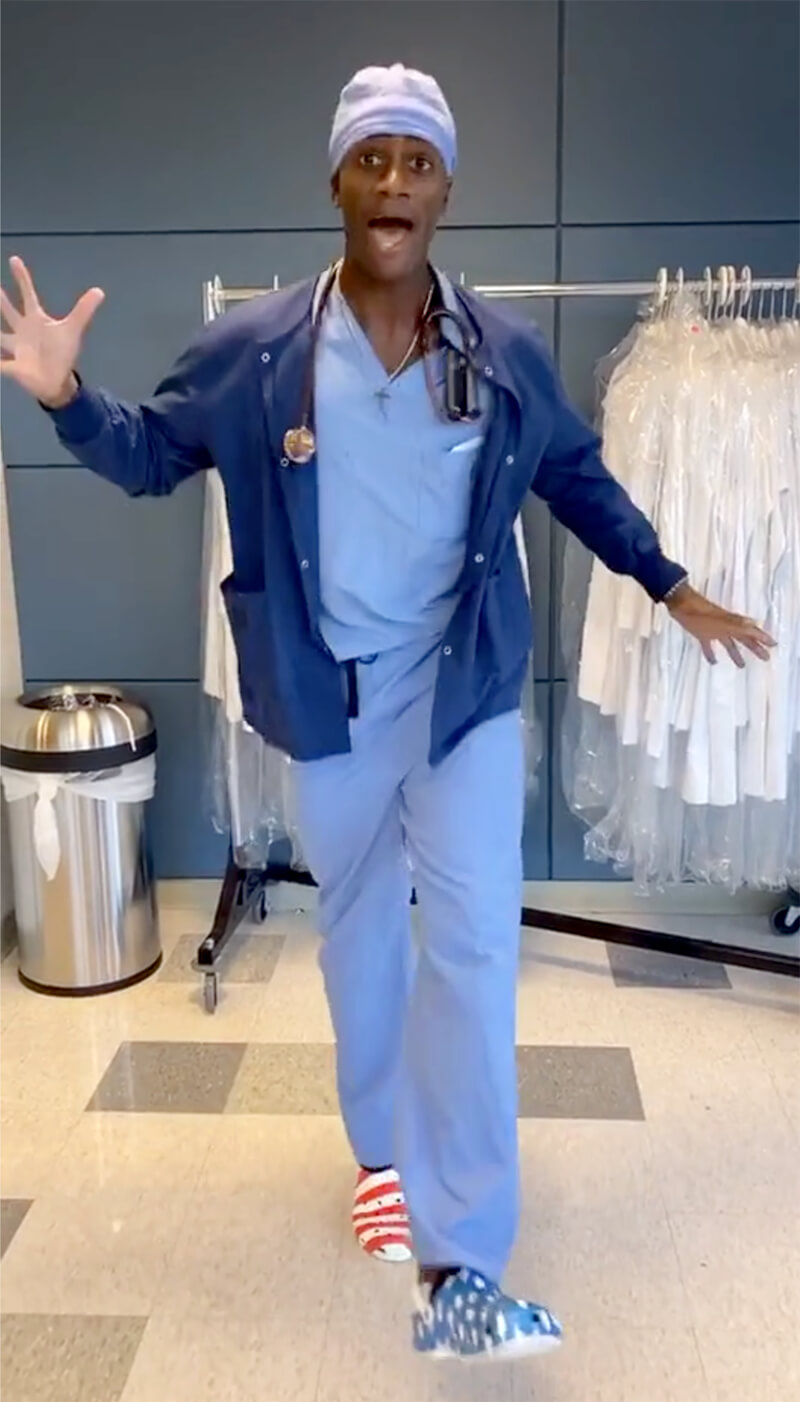 As AFSCME members on the front lines continue to protect their communities from COVID-19, it can be difficult to remain optimistic. But not for Dr. Jason Campbell, a member of the newly organized Oregon Health & Science University-House Officers Union.
With effusive positivity and dancing skills that would impress Fred Astaire, the 31-year-old resident anesthesiologist at OHSU has become TikTok famous, racking up millions of views on the video-sharing platform over the last month.
"These videos in a time of crisis allow for a small reprieve and some levity from the day-to-day atrocities that people are seeing, both nationwide and abroad," said Dr. Campbell. "It's just a chance for someone to smile, for someone to maybe laugh, and this could be their only smile and laugh that entire day."
Some videos feature Dr. Campbell trying out new dance moves, others feature quickly choreographed routines with his OHSU colleagues, and many feature tips for social distancing and advice for staying healthy. With over 350,000 followers on Instagram, Twitter and TikTok combined, and appearances on local television and on Good Morning America, Dr. Campbell is officially "The TikTok Doc."
What originally started as a new way for him to have a positive influence on today's youth quickly became a way to lift the spirits of not only his colleagues and patients, but followers from across the globe.
"I started doing these videos actually before COVID-19 to reach the youth, especially the African American youth, in a way to show them that they could dance and have fun and they could also aspire to become a physician one day or a lawyer or a businessman or woman," said Dr. Campbell. "Then when COVID-19 started, the mission never changed, but it was a chance for you to see how health care workers take their job seriously, but not take themselves so seriously. And that's always been the goal."
While Dr. Campbell tries to post at least once a day, he spends only 30 minutes maximum out of his roughly 12-hour workday on TikTok videos, making developing new dance moves look like child's play.
Originally from Washington, D.C., Dr. Campbell was an avid dancer as a kid, even becoming a member of the hip hop dance squad for the Washington Mystics, the city's championship-winning WNBA team.
"I also did a dance for musical theater class from ninth grade through 12th grade ... so that included jazz, modern, some ballet, some tap, and I've always done the popping and locking stuff – ever since I was a freshman in high school," said Dr. Campbell.  
 
Despite any social media fame, Dr. Campbell and his newly organized Oregon AFSCME colleagues at OHSU will continue to ensure the health and safety of their patients, albeit with a smile and some new dance moves.  
"As residents, we're excited about the opportunity to care for patients and the opportunity to learn our craft and to train. With COVID-19, it's been certainly eye-opening to understand really what an amazing field we've entered and are continuing to progress into," said Dr. Campbell. "Through the videos, I want people to recognize a small glimpse of a smile or a laugh, but never to detract or lessen from the severity of this disease or any disease that our patients are undergoing."