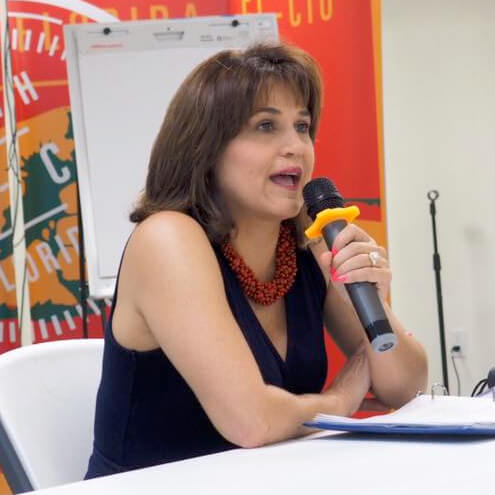 MIAMI – With union members across the country facing unprecedented attacks from anti-worker politicians, we have to try new approaches to achieve our goals. That's why delegates to AFSCME's 42nd International Convention passed a resolution calling on all of us to "deepen our collaboration and work more closely together" with our brothers and sisters in the Service Employees International Union (SEIU). Delegates to SEIU's convention passed a similar resolution.
Members and staff in Florida have been looking for ways to put that resolution into practice and an upcoming special election for the state Senate presents a perfect opportunity.
Frank Artiles, one of the state's most anti-worker politicians, made national headlines this spring after an alcohol-fueled tirade in which he made racist and misogynistic comments about and to fellow state senators. A few days later, Artiles resigned under pressure and a special election was called to replace him.
Home to more than 6,000 workers represented by either AFSCME or SEIU, Senate District 40, in the heart of Miami-Dade County, is the right venue for both unions to work together to elect a worker-friendly candidate.
Members of both unions endorsed Annette Taddeo, who has a record of standing with AFSCME members on everything from health care and jobs to fighting climate change and protecting our voice at work.
"This election represents a real opportunity to replace someone who went to work every day in Tallahassee looking at how to defeat unions, with someone who knows what workers in Miami are facing, understands how unions are part of the solution and is proud to stand with us every single day," said Ketha Otis, chair of AFSCME's PEOPLE program for South Florida.
Monica Russo, president of SEIU Florida, said Taddeo "brings both grace and grit to this crucial race. She is a fighter and a negotiator."