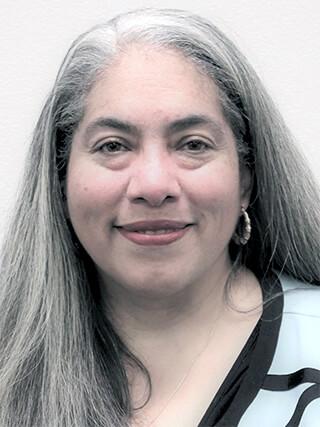 The labor movement is in Kellie Taylor-White's blood. From the time she was a little girl, Taylor-White recalls being involved in formative labor actions.
"My youngest memories in the early 70s are of hiding in the backseat of a car while my mom, the shop steward for her local, was on strike for CWA in New Orleans. My brother and I were to call my dad to get us if mom was arrested."
Taylor-White described these and many other powerful labor memories in essays which earned her this year's Gerald W. McEntee Scholarship. The $5,000 scholarship is awarded in honor of former AFSCME President Jerry McEntee to the candidate who best exemplifies McEntee's commitment to strengthening AFSCME through organizing, building political power for working families, defending workers' rights and supporting public services.
Taylor-White's labor lineage – her mother eventually rose from shop steward to become president of Louisiana's AFL-CIO – is only part of the reason she was chosen as this year's McEntee winner. Her  mission to help workers in her state is another reason, and it's firmly rooted in the present.
As Louisiana's Workforce Investment Council director and a member of Local 421 (Council 17), Taylor-White's goal is to place workers in good jobs.
"I bridge education and the workforce," explains Taylor-White. "We try to reskill or 'upskill' people so they can improve their lives and improve their families' lives. We train them for a job, or their next job. Everything I do is all about helping people to get the training they need to better their lives and maintain their families."
Taylor-White says the values she grew up with play a huge factor in her career goals today.
"If I had not had the background in organized labor, I would not have been able to do what I do. A lot of the passion for training people, for putting them to work, and helping them to improve their own lives comes from that background in organized labor. All I remember is everyone around me working to better everyone around them."
The McEntee Scholarship will allow Taylor-White to defray the costs of her doctoral degree in special education at Northcentral University. She is beginning a dissertation that examines teacher retention in special education in the state of Louisiana.
If working full time and pursuing a doctoral degree were not enough, Taylor-White is also a children's minister and avid quilter.
In her essay, Taylor-White offers advice any of us would do well to heed: "It is easy to focus on the negatives of the world today. If we focus on what we are doing each day to help our fellow citizens instead, we will find that the negatives diminish and the positives grow. We have to value ourselves and work we do so that the world is improved, not just our corner of it."
To learn more about the Gerald McEntee and other AFSCME scholarships, please visit our scholarship page.
Additionally, this year Union Plus recently awarded $250,000 in scholarships to 199 students representing 37 unions, including 24 winners from AFSCME. This year's group of scholarship recipients includes university, college, and trade or technical school students from 42 states. There were over 5,000 applicants.  
More info regarding eligibility and how to apply, etc. is here: https://www.afscme.org/member-resources/scholarships/union-plus-scholarship.