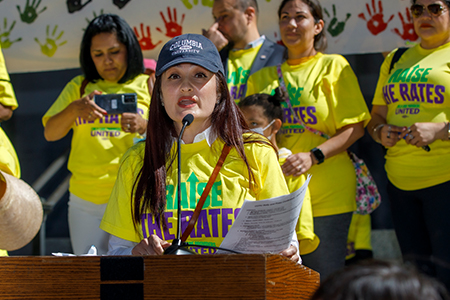 SACRAMENTO, Calif. – More than 400 California Child Care Providers United (CCPU) members, advocates, children, and parents were joined on Thursday by AFSCME President Lee Saunders, SEIU President Mary Kay Henry, California Senate President Pro Tempore Toni Atkins, Assembly Speaker Anthony Rendon, California Labor Federation Executive Secretary-Treasurer Art Pulaski and many others for a march to the state capitol to demand that Gov. Gavin Newsom pay providers a living wage.

"More than 5,000 providers have closed over the last year, causing lasting damage to the child care industry. How can the state expect providers to keep their businesses open and make ends meet on less than minimum wage?" said Miren Algorri, a CCPU and UDW/AFSCME Local 3930 member and child care provider from San Diego.
"When I was younger, I watched my mother, a child care provider like me, struggle to make ends meet while doing what she loves," Algorri added. "Low pay and little benefits are two things family child care providers have dealt with for generations. It's time to put an end to this cycle."
This march comes after providers spent months negotiating their first collective bargaining contract with the state of California, only to be stonewalled in their pursuit of fair wages. The state still has not offered any substantial proposals to address the poverty so many are experiencing, nor has it acknowledged the crucial role these workers play in California's economy. CCPU's 40,000 providers say it's now up to the state to sit down, listen and act to support California's child care system.
"I can't think of a profession with a greater responsibility than family child care providers. You help sustain the economy by doing the work that makes other work possible," said AFSCME President Lee Saunders. "California working families trust you with the most precious thing in their lives – their children's development, safety and well-being. I think that's worth more than what the state is offering, don't you? Don't you think the wealthiest state in the wealthiest nation in the world can do better?" 

Event attendees also carried roses, with each one containing a message to Newsom, invoking the "bread and roses" imagery that has symbolized more than a century of labor action by women in industries ranging from sewing to mill work. The hundreds of roses the providers delivered to Newsom's office demonstrated that their fight for equity and just pay has yet to be realized even in a state legislature led by pro-worker lawmakers.

Closing out the press conference was Johanna Puno Hester, the vice chairperson of CCPU and assistant executive director of UDW/AFSCME Local 3930. Hester made it clear that it's time for the state to stop stalling and give providers what they need to stay open and support themselves.
"These family child care providers are small business owners with thousands of dollars in expenses like any other business, such as cleaning supplies, Wi-Fi and living wages for their assistants. Yet, their take-home pay often adds up to less than minimum wage, with the pandemic only adding to their expenses with additional cleaning and distancing protocols," said Hester.
"Providers shouldn't have to beg for the state to make smart investments. We need significant investments to build, grow, and sustain a 21st-century, high-quality child care system instead of simply slapping band-aids and bubblegum on a long-deteriorating and antiquated system," Hester said. "In other words, to pay tribute to our suffragette sisters, we want the bread, but we also need the roses too."
CCPU brings together 40,000 family child care providers across California and is a partnership between SEIU Local 99, SEIU Local 521, and UDW/AFSCME Local 3930. More information on their contract campaign is available at https://www.childcareforall.org/.