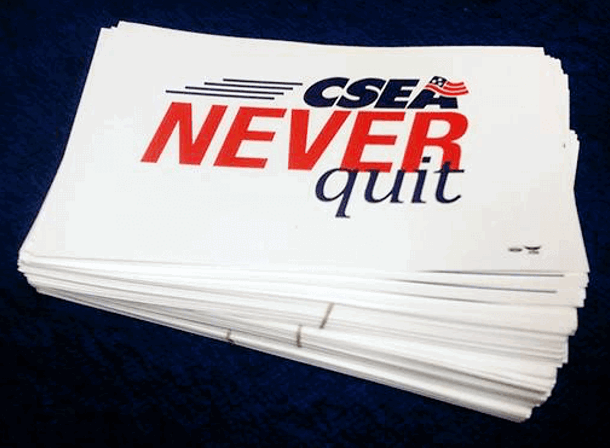 For the past several months, New York's CSEA Local 1000 has become AFSCME Strong, implementing our program to build a stronger union through one-on-one conversations with co-workers. It's already achieved amazing results, and last week's blitz in the Albany region is the latest proof of that success.
During the blitz, CSEA members made 9,300 phone calls to co-workers, conducted 1,400 visits to members' homes and worksites, and signed more than 1,800 Never Quit campaign cards, demonstrating their commitment to their union.
"The Albany blitz was a team effort," said Danny Donohue, CSEA president and also AFSCME International vice president. "Members and leaders came in from all over the state to carry out one of our most successful blitzes. It was truly empowering to see and feel the energy and engagement.
"Reengaging our members through the 'Never Quit' program is lighting a fire that will spread from the work trucks to the negotiating table, from the nursing home to the halls of the state capital and will continue to grow our union," added Donohue.
CSEA, the largest public employee union in New York state with more than 265,000 members, plans to build on its recent successes with blitzes coming to Suffolk and Erie counties.