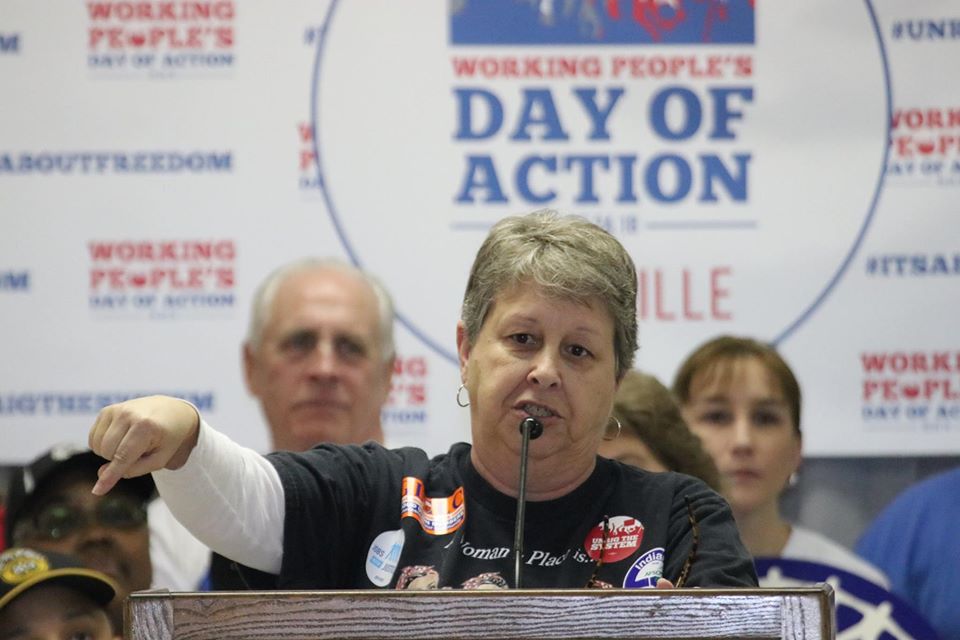 As communities across America grapple with the growing threat of the novel coronavirus, this much is clear – not only are public service workers going above and beyond the call of duty to serve their communities, they are also looking out for one another in selfless and inspiring ways.
Take AFSCME Local 4011, which represents school support personnel in Jefferson County, Kentucky.
As confirmed cases of COVID-19 have climbed in the state – 680 at last count – and as schools, government agencies and businesses large and small have shut their doors, the local's members are taking matters into their own hands.
They formed a task force to look out for, protect and support each other through this difficult time. It's union solidarity in action. And by taking care of each other, they are able to take care of their community that much better.
The task force has 12 member leaders and the local divided up Jefferson County into nine zones based on where members live, explained Local 4011 President Sue Foster. Each zone has a leader and each leader has a number of volunteers under him or her. This way, members can help one another and closely coordinate their assistance where it is needed the most.
"In zone three, for example, we have a long-time member of the local whose husband has stage four brain cancer," Foster said. "She doesn't feel comfortable going out to the pharmacy or to Kroger to pick up a loaf of bread because she doesn't want to carry the virus back to him. So, she calls her zone leader and that leader or volunteer will go to the drive-thru window at the pharmacy or to the grocery store and deliver those much-needed items to her."
The task force addresses other needs, such as when a local union member can't afford their medication. 
"We're not going to let anybody go without their meds," Foster said. "If it's a severe need, they call their zone leader who then calls me, and I'll pay for it over the phone. I'll get reimbursed for it later.
"We're all taking care of each other because we're all brothers and sisters."
Kentucky is a right-to-work state, and not every eligible Jefferson County school employee is a member of the local union, which counts nearly 4,000 workers in its bargaining unit. But the current crisis is making nonmembers take notice.
"Recently, we had 20 new members join the union," Foster said. "They're seeing what the union is all about and how we work with our members. I've had people come up to me and say, 'I have so much faith in the union now.' That membership is growing every day."
Foster, who has been president of her local full time for three years, started working with the Jefferson County School District over 25 years ago and has served in different positions, most recently in food service.
Since schools closed in mid-March as a result of the outbreak, Foster has communicated with her members multiple times a day. She also provides front-line members with safety glasses and face masks as they staff more than 60 school food-distribution sites, handing out breakfast and lunch to school children, making sure everyone who needs a meal gets one.
"We have several school buses and food trucks delivering to apartment complexes, mobile home parks and community centers to feed our children," Foster said. "We are now serving over 15,000 meals a day, both breakfast and lunch to anyone 18 years of age or younger."
Despite the threat of the virus, Foster says, Local 4011 members are determined to continue serving their community. As public service workers and members of AFSCME, that's just what they do.