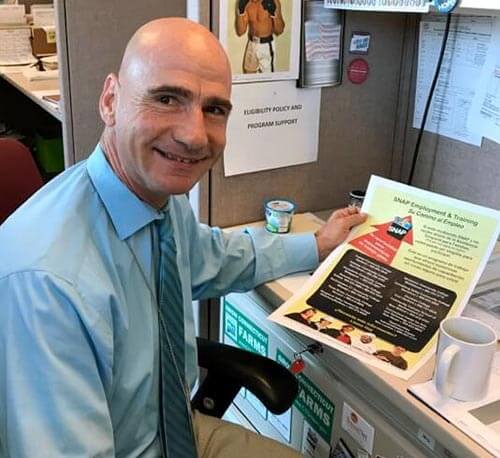 Bill Seedman's father once told him the worst thing in the world is wanting to work but not being able to find a job. Today, those words are echoed in Seedman's devotion to his work at the Connecticut Department of Social Services, where he helps deliver education and training to people seeking work.
As a SNAP consultant, he ensures struggling people in Connecticut have the benefits they need to keep their families fed. He works with partners, providers, and the U.S. Department of Agriculture to make sure the state's SNAP – or Supplemental Nutrition Assistance Program –runs smoothly and serves as many people as possible.
But Seedman's dedication to service means more than helping people put food on the table.
With his father's words ringing in his ears, he works to provide SNAP recipients with access to classes at local community colleges and elsewhere to help them in their search for steady and rewarding work.
Seedman, a member of Local 714 of Council 4, has had the opportunity to witness the impact his work has made on people's lives. He recounted the story of a single mother, a U.S. Navy veteran, who was using SNAP benefits but looking for a new career. His office helped her find a training program for medical billing and coding, and now that's what she does for a living.
Seedman's work affects people far beyond Connecticut. He and SNAP administrators in other states learn from each other, sharing best practices to benefit their communities.
"When I met Bill, I was totally inspired by his commitment to public service and to the union," said AFSCME Sec.-Treas. Elissa McBride, who met Seedman at an AFSCME Council 4 Secretary-Treasurer's training. "It is great that SNAP recipients in Connecticut have tireless advocates like Bill. On top of all he does for the public, Bill is also serving his union as a local secretary-treasurer. That's what I call the never quit spirit."
But like so many people in public service, Seedman's work is threatened by potential cuts outlined in President Donald Trump's 2018 budget, which includes a 25 percent reduction in SNAP benefits nationwide. While Seedman believes his office's focus on education and training makes it less likely to see as large cuts as others are likely to see, he knows it will mean reducing the number of people he can serve.
His dedication to serving others, inspired by his father, has put food in children's mouths and put people back to work. Seedman sums it up simply: "It's a great way to help people."