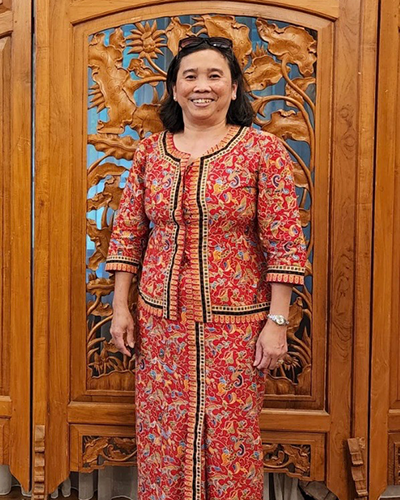 When Desa Fry was growing up in Malaysia, a popular tradition around New Year's Day was to eat noodles and oranges.
"Noodles make life longer and oranges make it sweeter," she says, explaining the belief behind a custom that people observed as they hoped for the best in the year ahead.
It was her mother who told her that the holidays aren't about presents but about being together as a family, and she has passed on those values to her own children. 
Although her days in her native country seem long ago to Fry – she moved to the United States more than 30 years ago – many of the things she learned as a child have stayed with her. That includes her commitment to hard work.
"My mom is the one who taught my sisters and brothers to have a strong work ethic and to be kind to each other," she says.
Fry is a housekeeper at Millersville University, a public university in southeastern Pennsylvania. She began her service there in 2004, working in food service, but transferred to housekeeping last year after applying for a job.
"I love my new job," she says. "I love the people and the students here. They're very friendly. I love to come to work and see everybody smile. I try to make friends with everybody. I treat them like a brother and sister to me."
Fry's co-workers have noticed just how good she is at her new job.
"Everyone who works in our building does such a nice job, but there's something special about Desa," says Kelly Davis, who works in the Dean's Office.
Davis says Fry plays a behind-the-scenes role that sometimes is taken for granted, especially when things are busy around campus. But her dedication to keeping the building clean is evident and makes a huge difference to the students, professors and staff alike.
"Desa is a force for good on our campus," says Davis. "She embodies our union's strong work ethic and also brings a kindness and encouragement to those who encounter her throughout the day. As a housekeeper on a busy university campus, she interacts with so many people and leaves them with a smile. Since she started in our building, we are welcomed each day by a fresh and sparkling space – her attention to detail and drive to do better is evident in all she does."
For her outstanding service, Fry, a member of AFSCME Local 2421 (District Council 89), is a winner of our union's Never Quit Service Award, which recognizes public service workers who go the extra mile to benefit their communities.
"I don't think I've ever not felt like working," says Fry, when asked what motivates her.
She recalls a period when she was furloughed for five months, a time that "nearly drove me nuts," she says.
To keep busy when she's not at the university, Fry says, she keeps a garden at home, spends time with her husband and two children, who are 24 and 21, and goes to church. Sometime soon, she says, she would like to go back to Malaysia to see her family.
"I do miss Malaysia," she says. "Sometimes I make a Malaysian dish like chicken curry and bring it to the university. I share it with the employees and the students. They love it!"