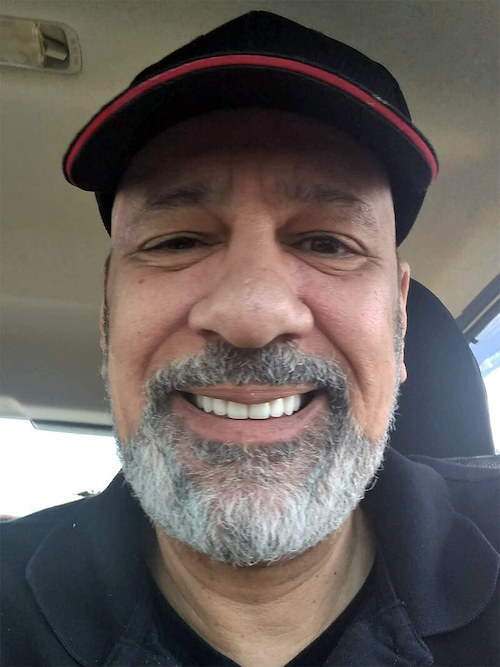 For the residents of the Foxtrot unit of the Rhode Island Veterans Home in Bristol, Rhode Island, days can be long, with little to brighten them. The 36 veterans who comprise the Foxtrot unit, ranging in age from mid-70s to nearly 100, all suffer from Alzheimer's disease. Many are confined to wheelchairs; most can no longer carry on a conversation.
The fight to maintain their dignity, to honor their service, and to give them something to look forward to each day is fought by the people who work at the veterans home, and one in particular: a cook's helper and AFSCME Local 904 (Council 94) member, Mark Simonson.
Though Simonson was trained as a nursing assistant, he switched roles several years ago to become a cook's helper, which offered him an unusual entrée into bettering the lives of the veterans he sees every day.
"He's a one-of-a-kind individual," says his former colleague, Bobby Mouzon, a respiratory therapist who nominated Simonson for AFSCME's Never Quit Service Award. "When residents come to eat, he treats them like they're in a fine dining restaurant. He'll take off their jackets for them, put on clothing protectors. He treats them like they're members of his own family."
Desserts are one of Simonson's specialties, according to Mouzon, which Simonson decorates and presents to residents with great fanfare. Simonson will also cue up old time jazz or pop tunes to make the dining experience as special as it can be.
It's not just the members of the Foxtrot unit who benefit from Simonson's thoughtful gestures. It's the families of the veterans. While many struggle watching their parents and grandparents grapple with dementia, they're relieved, according to Mouzon, to know that Mark is watching over their relatives.
"And if someone doesn't have anybody," says Mouzon, "they always have Mark."
Simonson, a former Navy radioman, sees his job as a special privilege.
"A lot of these guys are wheelchair-bound or can no longer carry on a conversation. They don't have much to look forward to except our interactions three times a day. I want to make it valuable for them," says Simonson. "I want to make their dining experience pleasurable."
Simons credits watching the Food Network with teaching him the culinary skills that bring a little extra flair – a dollop of whipped cream, a decorative strawberry – to the desserts he serves the residents.
"I believe presentation in food is everything," he says.
There are other small but important touches, too, like baking cookies in the afternoon, making sure that everyone gets coffee, tea or an ice cream sandwich if they want it.
But Simonson's impact at the veterans home goes far beyond the dining room.
"I'm there when these guys pass. I hold their hand. When they're on a morphine drip, I have a bottle of water for them. I sit there and talk to them," says Simonson. "I've been to a few of the guys' funerals. When the families tell me that I was their friend, that's what makes the job rewarding."
While the job has no shortage of difficult moments, Simonson credits his co-workers and the veterans themselves with helping preserve his youthful spirit.
"They keep me young. I'm 61, but you'd never know it."
Simonson is currently taking advantage of AFSCME's Free College Benefit through Eastern Gateway Community College, earning a degree in business health care management. Though he could retire now, he plans on waiting until he's 66.
There's too much to do, he says, including going to the local dollar store to buy Valentine's Day decorations for the dining room.