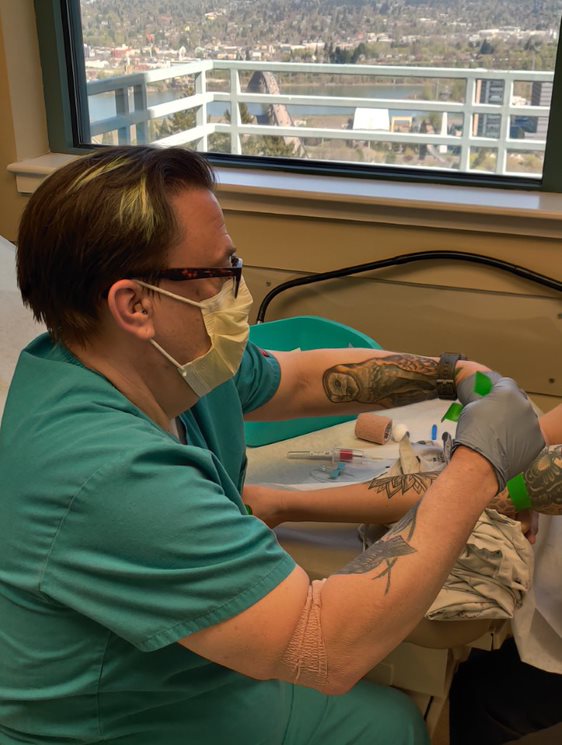 Michael Stewart isn't like most people. "I'm a people person. I just love people," he says, his joyful voice bursting through the phone. "And in a way, a lot of it has to do with the same reason I'm a member leader within our union. I want to care for people."

As a medical assistant at Oregon Health & Sciences University (OHSU) in Portland and the vice president of Local 328 (Oregon AFSCME), Stewart has been on the front lines of the COVID-19 crisis since Day One. But that's not what makes him unique. What makes him different is something more intangible – a feeling one gets that this kind and generous man has no choice but to help others.

Stewart's drive to serve isn't merely an affirmation, but a deep-seated belief built over a lifetime of struggle and observation.
"I grew up very, very poor, in a very small town in Oklahoma," he said. "I was bullied a lot as a kid. I had [Attention Deficit Hyperactivity Disorder] and just came out of that experience thinking that there needs to be more people out there fighting for folks that have gone through that experience … taking care of people who need it. And so those things were my driver. And that's why I'm a medical assistant. And that's why I'm a member leader."

Stewart left Oklahoma in the late 1980s. He joined the Army and became a radio repairman, getting his first taste of public service. He spent time in Germany and El Paso, Texas, before being deployed during the First Gulf War. He left the military a short time later, and, after spending most of his life in arid climates, found his way to Oregon and the perpetually soggy Pacific Northwest. He became a medical assistant. That was 25 years ago. He's now 54 years old.

For the last three years, Stewart has primarily worked with HIV-positive adults, a calling he's felt since he began his career.
"Once I saw an opportunity to get into this one [HIV clinic] in internal medicine and become a part of that team I jumped at it. … I wanted to be somebody that tried to help those people in that situation and showed them kindness," said Stewart. "That not everybody views them as a pariah. That there are people who just fundamentally care about them as a human being."

Stewart recently finished a voluntary two-week rotation in OHSU's COVID-19 ward, continuously putting his safety at even higher risk to help others.
"Honestly, you're not thinking about your own safety," he said. "You put the proper stuff on, and you use proper techniques. But overall, your entire focus is to take care of that patient. To let them know that they're going to get good care and that you're trying to help them as much as you can."
Of his internal medicine colleagues, he was one of four to volunteer to work with respiratory patients.
"All of us have the same attitude which is, this is what we're supposed to do, you know? All of us volunteered for a number of reasons. One is, obviously, we love our patients. Two, a lot of our co-workers for, one reason or another, couldn't do the work because they either care for somebody at home that's ill or immunocompromised, or they have small children, or they're immunocompromised themselves," he said.

This innate selflessness, this belief that one is required to do everything possible to help others, is what keeps Stewart going, day in and day out. He knows, too, that to help as many patients as possible, workers like him must have union representation.
"Think about how many people who before this pandemic were in jobs that were considered by so many people, especially corporate America, throwaway jobs," he said. "Such throwaway jobs that people didn't think deserved a living wage, or health care, or benefits – suddenly they're essential workers. …All those things drive me to be an MA and be an activist in the union. I mean, you look at what's happening, and who is the loudest, most consistent voice to take care of people and make sure they're working under safe conditions? That's unions."

The COVID-19 pandemic has shown one thing, Stewart said: "We have to have a new normal. We have to recognize that what was going on before with wage inequality, with inequality in health care services … we cannot go back to that kind of inequality in so many areas. …We're the richest nation on the planet. We should do better."