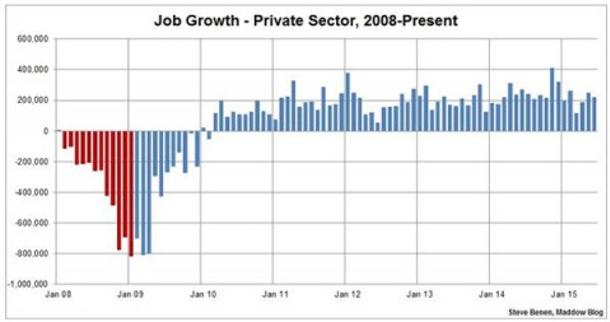 As Americans prepare to celebrate the Fourth of July, the U.S. economy continues to show signs of improvement, even as wages remain stagnant. Aside from another positive report on job growth, workers could cheer President Obama's announcement this week that more workers will be able to qualify for overtime pay.
Last month's jobs report, released by the Bureau of Labor Statistics Thursday morning, shows that the economy added 223,000 jobs, bringing the unemployment rate down to 5.3 percent. That is the lowest unemployment rate since April 2008.
But most workers' wages have actually declined in real value in recent years and, with the exception of a few years during the Clinton administration, have declined steadily since the early 1970s.
And there are still 6.5 million people who are working part-time when they'd rather be full-time, a number that hasn't budged in the past year. In fact, a whopping 40 percent of all those working are now categorized as "contingent" employees, meaning they have part-time, temporary, or on-call employment.
The White House's new plan for overtime is a step in the right direction. The new rules will raise the income threshold for workers who qualify for overtime pay, meaning many salaried workers making $50,000 a year who were ineligible for overtime previously can now draw overtime for hours worked beyond 40 a week.
"It's one of the single-most important steps we can take to help grow middle-class wages," the president said in a speech in Wisconsin, where he derided the economic record of Gov. Scott Walker.
This change is long overdue. In 1975, 65 percent of American workers could earn overtime pay. In 2013, only 8 percent of workers qualified. Meanwhile, Americans are putting in record hours for little pay. The Department of Labor estimates that the new eligibility rules will mean a raise for about 5 million people next year.
The minimum wage needs to rise, too. Right now, there is no state in the nation where a minimum wage worker can afford an average one-bedroom apartment without working well over 40 hours per week. That's why activists and city leaders have been working to implement wage increases in cities from Chicago to Los Angeles to Louisville.
There's a big difference between simply hiring someone and treating them fairly. AFSCME and other unions are here to insist that we need good, secure jobs that pay a living wage. That's what a successful economy looks like.