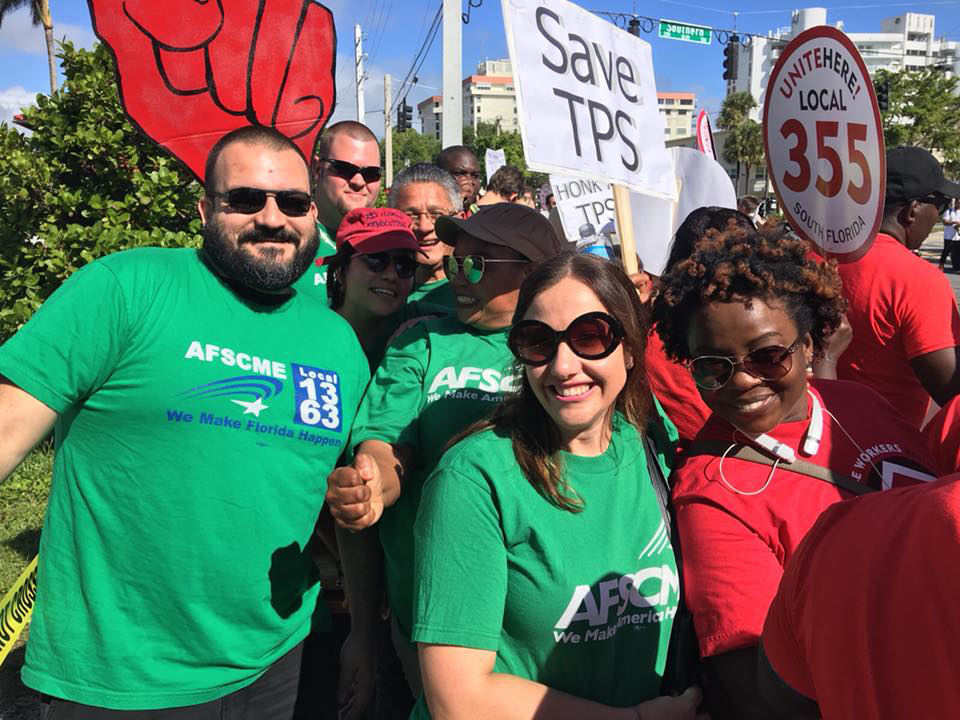 In 2015, AFSCME members in Florida were facing a troubling future. Their jobs and rights were under attack as corporate-backed legislators and organizations used Florida as a testing ground for the anti-worker attacks that later went national.
AFSCME Florida members decided that a renewed focus on organizing was key to survival. The statewide council relaunched with a sharp focus on growth and activism on behalf of working families.
Four years later, as AFSCME Florida prepares to hold a special convention at the end of March, the wisdom of that recommitment is becoming evident. A total of 5,000 additional workers have joined together through AFSCME Florida since the summer of 2015. The new focus has not only expanded membership but also sparked renewed energy, focus and commitment among members.
"We will be launching AFSCME Florida with the wind at our back," said William Orange, a nutrition worker at Jackson Memorial Hospital in Miami and a leader at AFSCME Local 1363. "We have been able to win better contracts, enforce them better and we have a seat at the table because we've grown our union."
Examples can be seen across the state.
At the Florida School for the Deaf and the Blind in St. Augustine, AFSCME Local 3025 more than tripled in size in the past four years – from 25 to 90 members – and now has a complete executive committee, shop stewards and a plan.
"Our union became something more than what you use when you are in trouble but something you use to fulfill your career goals," said Eyvolle Pamphile, an education and training specialist and the local's president.
Deanna Howell, a bus driver with Manatee County Public Schools and president of AFSCME Local 1584, said a renewed communications push was key to her local adding more than 180 members in under two years. Members communicated with their colleagues about pay raises –rank-and-file workers hadn't received a raise or step increase in six years – and stressed contract negotiations during worksite visits.
"We needed to show them we were working towards the same goal and were facing the same issues," Howell explained.
Marcellous Stringer Jr., a waste truck driver with Miami-Dade County and president of AFSCME Local 3292, said his local worked to engage and inspire members in non-traditional ways, even outside of the worksite.
The I AM 2018 campaign provided a great opportunity to highlight problems that all workers face.
"The Moment of Silence event we held with our members, management and elected officials really showed that our voice is powerful across the community," Stringer said.
He echoed members from across the state when asked about the reasons for AFSCME's growth in Florida.
"We have made huge steps forward because we were not afraid to try new things, hold each other accountable and be honest with ourselves," Stringer said.