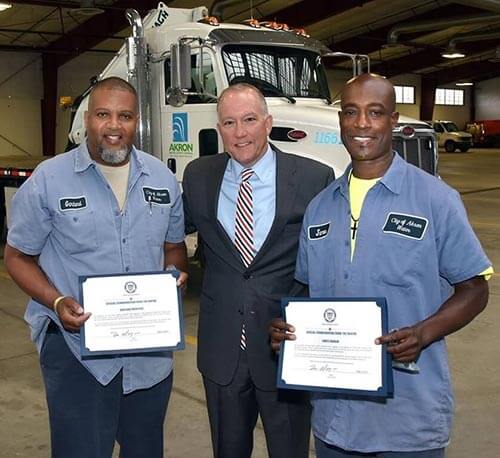 Repairing a fire hydrant is the kind of necessary, but routine, work that public service employees perform every day. That's what Garland Paynther and James Ingram were doing when a car on the nearby expressway crashed into a retaining wall. Their quick action saved the driver's life.
On May 31, while working on that hydrant, the two Akron (Ohio) city water department employees noticed a car barreling off the nearby expressway off-ramp "about 20 feet from where we were working," recalled Ingram, a water maintenance worker for the past 18 years and a member of AFSCME Local 1360 (Council 8).
The driver, he added, "shot across oncoming traffic, jumped the curb over the freeway overpass and hit the retaining wall, and ricocheted off that."
"I grabbed my radio and called for help and we ran over to the car," said Paynther, an equipment operator also employed by the city for 18 years, and who serves as grievance chairman for the same local.
They both ran to help.
"When we got to the car, we saw him slumped over and he wasn't moving," said Paynther.
Ingram turned off the ignition while Paynther checked the driver's weak pulse.
"Then I noticed he was changing colors," Ingram said. "We knew we had to do something, so we pulled him out of the car and took turns doing CPR on him until the ambulance got there."
"He told me to start applying CPR and chest compression," added Ingram, who had learned the skills through the city about six months earlier, but had never had to use it to save a life. Now he was.
The driver regained consciousness, then lost it and regained it several times as the men worked to keep him alive. They stopped only when paramedics arrived and took over. The victim survived.
"Just instinct" Paynther said in response to a question about what made him respond the way he did. "It's just instinct to want to help somebody. Plus, I'm retired military, and been in a couple wars, so I had a little training."
"I'm glad to be in that position to help," said Ingram. "I just hope I'm never in that position again." 
The City of Akron expressed its appreciation on June 5 when Mayor Dan Horrigan presented the two with letters of special commendation. They each read:
"As a first responder to the scene, you took action and administered CPR until the medical unit arrived. Your selfless act clearly illustrates the dedication and commitment we have among our City of Akron employees. Thank you for your dedicated and loyal service to our community."
AFSCME thanks them too. They demonstrate the commitment to their community that AFSCME members show every day, in ways both routine and extraordinary.