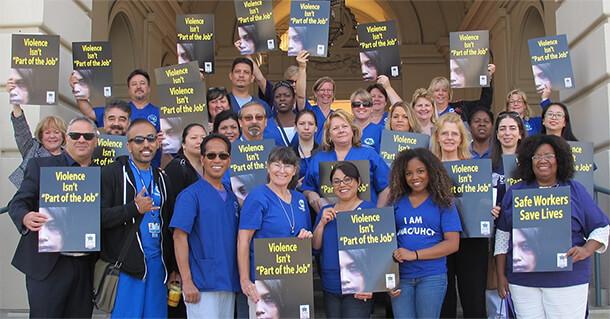 When healthcare workers in California go to work on Saturday, they will face the same challenges they do every day. But there will be one difference that ultimately could save lives – their own.

State regulations intended to reduce workplace violence go into effect April 1. Called the Workplace Violence Prevention in Health Care, the standard was adopted by California in October 2016. Intense lobbying by groups that included the United Nurses Associations of California/Union of Health Care Professionals (UNAC/UHCP), The Homecare Providers Union (UDW)/AFSCME Local 3930, and United EMS Workers-AFSCME Local 4911, helped make it happen.
The new regulations cover both public- and private-sector workers, including homecare providers and emergency medical technicians. Among the requirements (some are set to take effect in 2018) is implementing "an effective workplace violence prevention plan that is in effect at all times in every unit, service, and operation."
The importance of establishing such regulations was made clear – and personalized – by members of UNAC/UHCP, who signed a petition, rallied and testified at Cal/OSHA hearings in 2015. Among those testifying was Registered Nurse Rosa Carcamo, who explained the importance of broadening the definition of what constitutes a weapon.
"A chair and a pen are not perceived as weapons or instruments, conventionally, designed to inflict death or serious injury, but I, personally, have been attacked at my hospital with a chair," she testified. "My co-worker was placed in a choke hold while a patient held a pen to her jugular."
Carcamo recommend that a "weapon" be defined in the regulations to include "fashioned, improvised, and makeshift weapons." In the final regulation, a "dangerous weapon" is defined broadly to mean "an instrument capable of inflicting death or serious bodily injury." That could be a makeshift weapon.
"We should not be placed in harm's way because of poor policy and inadequate regulations related to workplace violence," testified Scott Byington, another registered nurse. "We need improved Cal/OSHA standards so we can have better security and keep patients and health care workers safe."
The state's Occupational Safety and Health Standards Board unanimously approved the new regulations.
Violence against healthcare professionals is a serious problem. A 2016 report by the U.S. Government Accountability Office (GAO) describes the problem in detail. In California, for instance, GAO found that 26 percent of the more than 4,000 workplace injuries from 2003 to 2013 "were due to patient assaults and amounted to $16.6 million in worker's compensation costs over this time period."
California is the first state to enact healthcare safety regulations that apply to both public employees and private healthcare workers. AFSCME supports expanding these important regulatory safety and health protections nationwide.