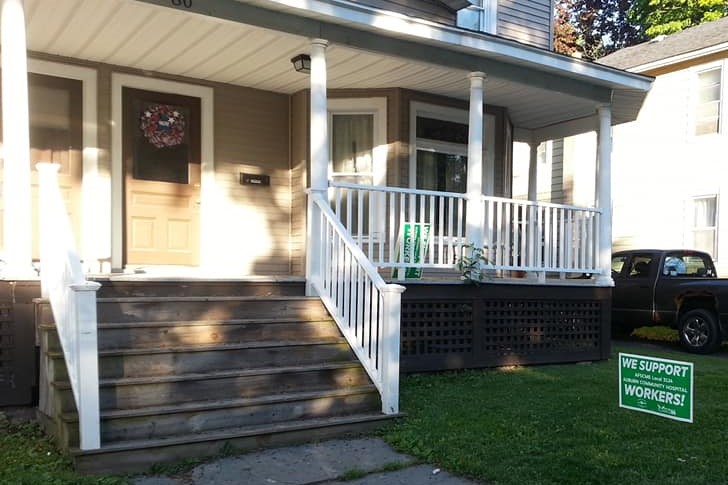 The summer heat didn't deter AFSCME members in upstate New York from taking action to make sure their employer gives them a fair contract.
Members of AFSCME Local 3124, District Council 66, along with their community allies, took to the streets on July 25 to send a message and demand a "Fair Contract Now!" at Auburn Community Hospital (ACH).
Over 100 peaceful protestors, clutching signs, banded together to form this informational picket to raise awareness and support the struggling health care workers at ACH as they seek fair wages, reasonable health care benefits and safe staffing levels. These underpaid, overworked and short-staffed workers are demanding a new contract that will treat them with dignity and respect.
Currently at ACH, the certified nursing assistants (CNAs) – the workers who take care of disabled and elderly residents at Finger Lakes Center for Living, ACH's nursing home – start out at $13.17 an hour and top out at $17.19 after seven years of service. CNAs are frequently understaffed at Finger Lakes Center for Living. It is common for them to work up to eight days in a row, and it's not unusual for them to be forced to work 16-hour shifts due to short staffing.
Jeannette Moor, a dining room attendant at the Finger Lakes Center and a 30-year member of Local 3124, said, "There are 40 residents on our floor and only four CNAs to look after them. That's not safe in my book."
Moor stated, "I'm responsible for getting food ready at the nursing home. I make sure everyone is getting the right food, at the right consistency and the right temperature. I talk to the residents, and I do whatever I can to help them. I love my residents, but I have to be able to take care of my family, too."
Personal care assistants (PCAs), the workers who take care of disabled and critically ill hospital patients at ACH, start out at $12.42 per hour and top out at $16.39 after seven years on the job.
Patricia Chilson, a cafeteria associate at ACH and a 34-year member of Local 3124, said, "We need a fair contract. If you were in the hospital, you would expect the people taking care of you to be treated fairly by their employer."
She went on to say, "If we could share one message with our brothers and sisters in AFSCME across the country, it would be to stand together and stand united."
When the contract expired in January, management unilaterally increased the health insurance deductible from $1,500 to $1,700 without consulting with the union. Hospital officials also gutted AFSCME workers' dental insurance. For example, the plan used to cover 80% of the cost of a crown, but now covers only half the cost.
Workers are getting squeezed while hospital CEO Scott Berlucchi earns more than $400,000 a year.
At the picket, workers were joined in by labor allies and elected officials from Auburn City Council and the county. Even a couple of candidates for Congress showed up to support AFSCME workers. For the past few months, the union has been rallying community support. Green lawn signs that say, "We Support AFSCME Local 3124 Workers!" have been sprouting up all around Auburn.
Contract negotiations are still ongoing.
(Contributing: Sara Haas, AFSCME International)