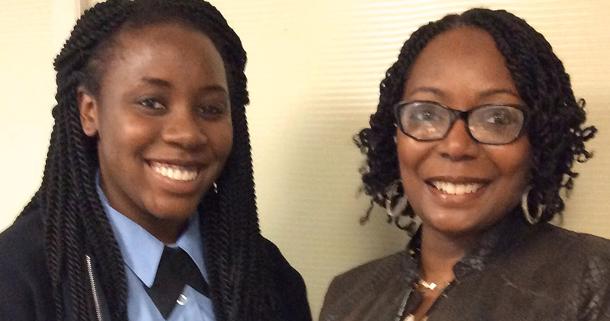 Michelle Smith never quits. Her persistent and successful efforts to reach fee payers about joining AFSCME is evidence of her commitment to her union, Ohio Civil Service Employees Association /AFSCME Local 11.

Talking with co-workers – having one-on-one conversations with them to talk about why they should join or re-commit to their union – is something that "comes easy for me," says Smith, who works for the Ohio Department of Jobs and Family Services, handling claims for the unemployed.

"I really enjoy reaching out to the members, but I also enjoy when I can find a fee payer and get that person signed up," she says. "It's like sowing a seed, watering a seed and watching for the seed to grow into fruit."

She's been doing a lot of that lately. But it's one thing to talk to members when they are easily reached and entirely another matter when they can't be found.

That's what happened a few months ago when Smith tried to reach a fee payer – Brittany Adams – by phone, only to discover the number went to a behavioral hospital.

"It didn't make sense to me because she works as a driver's license examiner," Smith says.

Undeterred, Smith drove 45 minutes to the address they had on file for the woman's workplace. It turned out to be the state Turnpike Commission office. Although Adams was technically under the commission's jurisdiction, they told Smith they'd never heard of that person. Directed to the state troopers' office in the next building, she tried again. "They didn't have a clue who she was," Smith says.

Unwilling to quit, Smith went home and called other license examiners at different work places. No luck. "They never heard of her," she says. "I said, 'This is crazy.'" Eventually, Smith tracked down someone who did know Adams, a state employee for the Ohio Bureau of Motor Vehicles, where she's been working as a driver license examiner for less than a year. Smith called the woman's chapter president. "Where is she?" Smith asked. "He said, 'She's standing right next to me.' I said, 'I'll be right there in the morning.'"

The next morning, Smith drove an hour to Garfield Heights to finally meet Adams, the mysterious fee payer.

"I told her I'm very glad to meet her, and wanted to let her know how much effort I went through to meet her, and that I wasn't going to give up until I found her," Smith recalls. They had "a really good talk" about the union, Smith says, and Adams "was more than willing to sign the card," especially after learning about the various benefits offered to members – particularly a program that helps members and their families gain a two-year college degree without cost.

"A lot of time went into finding her, and I just felt, based on her lack of seniority, that no one had ever talked with her" about the union, Smith says. "And that was the case. For these recently hired workers, you want to have a conversation with them quickly so they see the importance of joining. You've just got to find them."