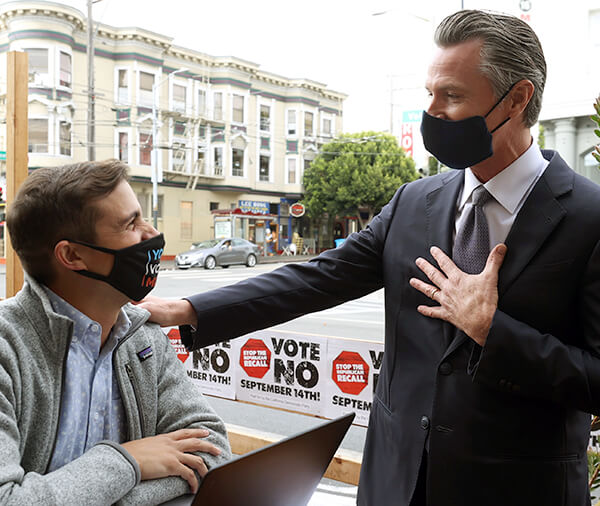 LOS ANGELES – In less than two weeks, California voters will decide the fate of Gov. Gavin Newsom in only the second recall election in the state's history. Since this recall effort being funded by anti-union special interests, it's imperative that all AFSCME California members and their families vote no on the recall. 
"California's a leader in pro-labor regulations and laws … we would take a hard step back by recalling Governor Newsom, and it could damage our state for potentially years and years, just like the last recall," said Ryan Shannon, a 911 dispatcher in San Mateo County and the president of AFSCME Local 829 (Council 57). "If labor is important to you, if the future of a progressive state is important to you, then the recall should be important to you, too." 
Beginning Aug. 16, all registered California voters began receiving their ballots by mail. Voters have until 8 p.m. PT on Tuesday, Sept. 14, to return their ballot either by mail or in person. For more information on this recall election, go here.
With such a short turnaround period, and during what's normally a non-election year, it's critical for pro-labor voters to turn out in large numbers to keep Newsom in office.
AFSCME California members know that if the anti-union recall backers win, they'll stop at nothing to roll back worker protections, slash wages and cut health care. 
"The working people, we would definitely see a lot of disparity. I mean, you're talking about losing everything that we've accomplished," said Maria Nunez, an intensive care unit nurse and UNAC member from Downey. "We won't see that support in masking, in pushing vaccinations. By voting yes, we're going to have someone very extreme, who's not for the working people. It will be someone who will empower the rich and the big corporations and won't really focus on the little people – nurses, teachers, the working class that has struggled but has kept this state moving."
Despite these explicit threats, there's plenty of misinformation online and in the news that the recall backers are counting on to make voters turn against Newsom. That's why all AFSCME California members need to know the facts and what is at stake in this election. 
"It's important that people don't take misinformation and base their vote on that," said Nunez. "Go out, do the research, and see all of the good things he's done for this state and how he's driving forward. … By recalling him, we would be doing a disservice to our families, to our kids and to the state in general." 
For Derek Bryson, an administrative clerk in the Airport Police Office of Homeland Security and Intelligence at Los Angeles International Airport and a member of AFSCME Local 3090, the reason to vote no on the recall is even more straightforward.
"There's no need to change course in midstream," said Bryson. "I don't understand why people want to recall a governor who's doing his job. And there's been no proof that he hasn't done his job."
Since California is the world's fifth-largest economy, it's critical that AFSCME members in this state vote no on the recall and keep California working for working people. If not, we risk turning over the most populous state in the country to an anti-union politician who will be concerned only with helping his or her corporate sponsors.
Shannon said the recall election isn't really about Newsom, "it's about politics in the worst way."
"It's about a party that can't win in California trying to steal a year of governance," Shannon said. "And in doing so, (it's an) attempt to turn back the clock on a lot of labor laws, a lot of COVID protections, things they would never be able to do normally in our state."