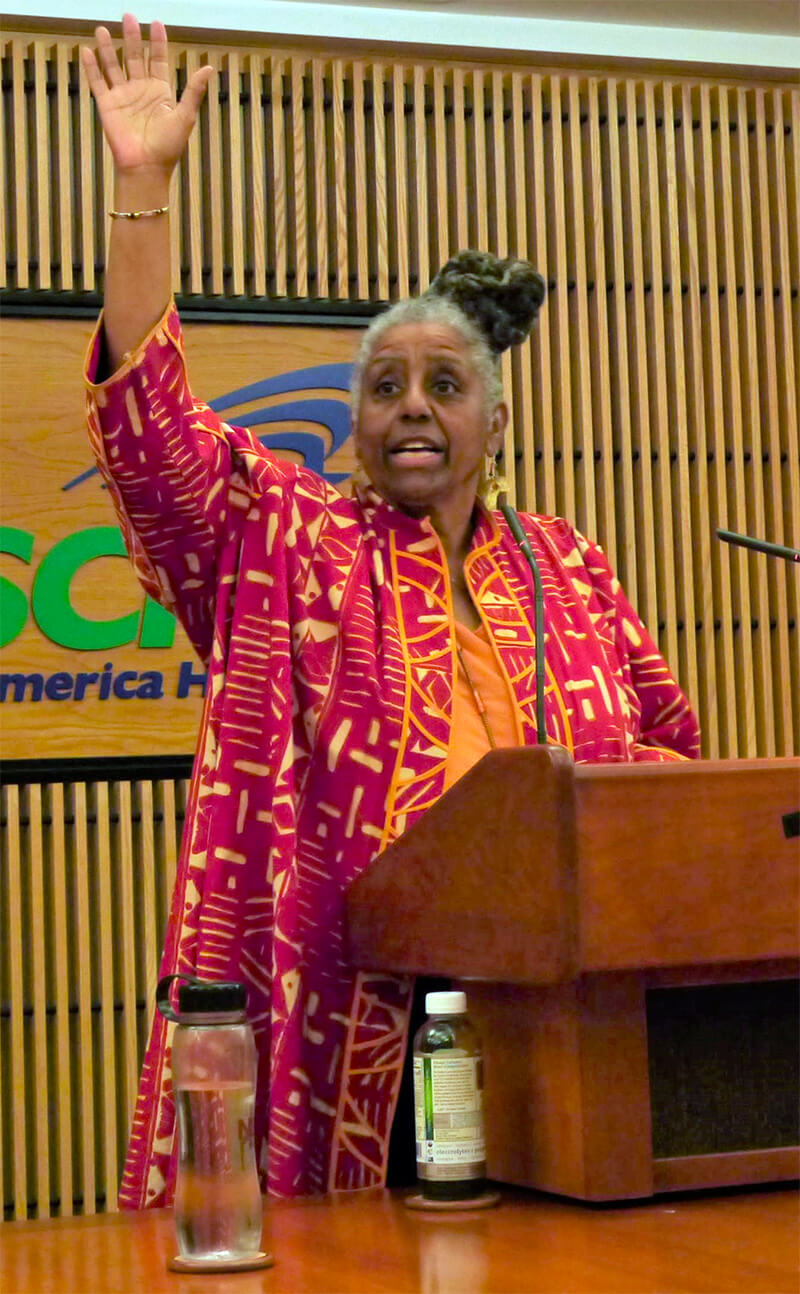 Elise Bryant, the executive director of the Labor Heritage Foundation, discussed how music and song are inextricably linked to the labor movement in a Black History Month event on Tuesday.
Bryant was joined by AFSCME President Lee Saunders, Secretary-Treasurer Elissa McBride and international union staff at AFSCME headquarters in Washington, D.C.
Saunders described the deep origins of the battles public service workers wage at the bargaining table and at the ballot box.
"Every day, we are guided by the belief that you cannot have economic justice without racial justice … and vice versa," said Saunders. "It is the labor movement – and public employee unions in particular – that have created a pathway to the middle class for so many African American families."
Before introducing Bryant, Saunders also highlighted the importance that grassroots community organizing plays in engaging communities of color politically, as exemplified by the work of BLOC, Black Leaders Organizing for Communities, a Milwaukee group that mobilizes residents around issues that matter to them and gives them the tools to hold elected officials accountable.
Bryant, a historian, screenwriter, labor educator and performer who also serves as president of the Coalition of Labor Union Women, shared several stories of how song and music have been intertwined with the struggles of both working people and African Americans.
"Music unites all labor movements," noted Bryant. "When you sing, you organize twice."
Bryant shared stories of leading workshops in South Africa for trade unions members, where workers turned to music to share their grievances; an act, she added, performed by an entire group of workers singing at once, never one singer at a time.
Through song, Bryant also evoked stories of African American historical figures like Thornton and Ruthie Blackburn, escaped Kentucky slaves who fled to Canada, and Lucy Gonzalez Parsons, an organizer, writer and intellectual.
Bryant also performed a number of songs that are significant to African American life, including "Lift Every Voice and Sing," and the labor movement, including "Solidarity Forever." She took time to break down the roots of each, from children's tunes to worker chants.
Bryant discussed how important political engagement is for people of color. She noted that in 2018, African American voters helped usher in a wave of worker-friendly candidates. An even greater turnout, she said, is needed for the 2020 elections.
"It's on us," Bryant concluded.