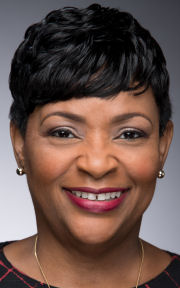 AFSCME supporter and longtime Maryland Delegate Adrienne Jones made history this week, becoming the first woman and the first African American to be elected Speaker of the House of Delegates. White men have held that leadership position for more than 400 years.
Jones is also one of only seven women in the country – and the only woman of color – to serve as the speaker of a state House.
AFSCME congratulates Jones, with whom our union has a close working relationship.
Since becoming a member of the state House in 1997, Jones has stood up for state workers and working families, defending workers' rights and collective bargaining rights, fighting side by side with AFSCME members for improved public services, safer workplaces, fair wages and a voice on the job.
The state legislative session that just ended was an extraordinary success for state workers and working families. Many of the victories were possible thanks to collaboration between AFSCME members and state legislators, including Jones.
"This session, Speaker Jones worked tirelessly to, not only prevent a delay in salary increases for Maryland State and Higher Education Employees, but also to find funding for an additional long overdue increase," said AFSCME Maryland Council 3 President Patrick Moran. "Now more than ever, we need a strong and effective leader, like Speaker Jones, to move Maryland forward for working people."
For 16 years, Jones had served as Speaker Pro Tempore of the House, second in command to Speaker Michael Busch, who died on April 7. Busch, too, was a close ally of AFSCME.
Working families in Maryland have much to celebrate from Jones' historic election. AFSCME members look forward to continuing to work closely with her, now as leader of the lower house of the state legislature.