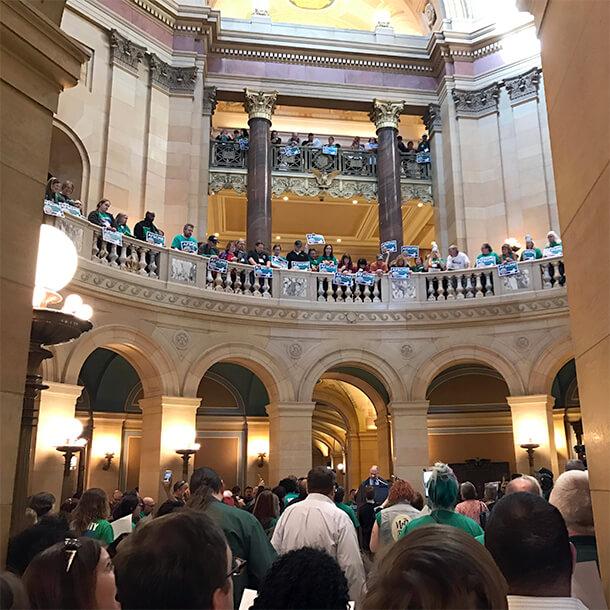 ST. PAUL, Minn. – A retired Minnesota public employee with 24 years on the job, Retiree Chapter 5 Pres. Jeff Birttnen has seen his share of "Days on the Hill."
"Somewhere around 20," he said.
On March 28, AFSCME Council 5's annual citizen lobby day, called "Day on the Hill," brought together more than 1,200 working and retiree members to meet with their representatives and senators on a variety of issues that not only affect them as union members, but as Minnesotans.
While Minnesota sits on a $1.65 billion surplus, the Republican-controlled State House is working to cut 10 percent from the budget. That could mean a possible loss of 3,500 public service jobs and a reduction of services. Adding insult to injury, lawmakers are also seeking nearly $2 billion in tax cuts that benefit the wealthy and large corporations.
"AFSCME people have power!" shouted Eliot Seide, Council 5's executive director and an AFSCME International vice president.
Speaking to members who packed all three open levels of the Capitol Rotunda, waving banners and AFSCME signs, Seide declared, "We never surrender at the Capitol or at the ballot box. With iron will, we stopped Scott Walker at the border, and we stopped Trumpcare last week. Any politician who tears down working people and our aspirations for a better future has to reckon with us."
"When we lobby our legislators, it's about protecting our jobs, protecting our families, protecting our communities and protecting our rights," said Council 5 Pres. Judy Wahlberg during a lobby day informational session.
"We elect our bosses, and we ought to make sure our bosses are doing the right things for Minnesota, and that usually means holding elected officials accountable for their actions," said Birttnen. "Our legislators get to know us, and know our faces. Just showing up at the Capitol doesn't cut it, we go to town halls, and meet and greets, to make sure they know that we have each other's back."
Birttnen, a retired Washington County eligibility specialist, added, "As the first point of contact for people entering the welfare system, I had to know the ins and outs of everything from prenatal care to county burial procedures."
Following retirement, Birttnen kept working – to improve the lives of fellow Minnesotans.
"We often talk about standing on the shoulders of those who came before us. The retirees are those shoulders," he said. "We want to be strong, and work with the working members to let them know that the work we did to get to this point was important, but that the work they're doing is more important as we move forward together."
Marcia Westbrook, a member of Local 9 who works in utility billing, said, "Minnesota cities get high marks for livability. That doesn't happen by accident. It happens because we do the work. We do the work that makes people want to live, work and raise a family here."