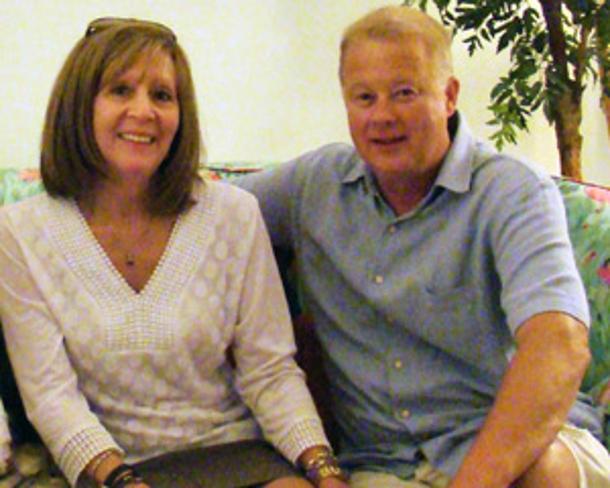 Cindy and Doug Cook couldn't be more excited about attending AFSCME's 42nd International Convention in Las Vegas this July. Not only because they've been AFSCME members for a combined total of more than 60 years. And not just because they're big believers in what workers can achieve when they stand together, even in the face of a great challenge. Their trip will be unique for a very personal reason.
Cindy and Doug met at the AFSCME International Convention in Las Vegas in 2002. They were married in Las Vegas in 2006. So this year they're going back to celebrate the 14th anniversary of their meeting and their 10th wedding anniversary. Their union was "literally union-made," they say, and they are looking forward to sharing this special moment with their AFSCME sisters and brothers.
How they met
On the Sunday before Convention 2002, Doug was swimming in the pool at the Paris Hotel when he first set eyes on Cindy. "I saw this beautiful girl sitting by the pool, dangling her feet in the water," he says. "So I swam up to her and we started talking."
"We clicked immediately," Cindy recalls, "and we ended up talking for over two hours. He made me feel like I had known him all my life."
At the time, Cindy was an employee of the City of Erie, Pennsylvania, and president of AFSCME Local 2206 (Council 13). Doug was (and still is) an equipment operator for Thurston County, in Olympia, Washington. He's also a member of AFSCME Local 618 (Council 2), where he has served as vice president. Though they came from opposite sides of the country, they had much in common, including their union activism. They spent the rest of the week together, attending convention activities and getting to know each other.
"It was then that our friendship was born," Cindy says.
They never quit on each other
After the 2002 Convention, Doug and Cindy went back to their respective homes. For the next three-and-a-half years, they did the "East Coast/West Coast thing," as Cindy puts it. At first, they visited each other in Las Vegas, then Doug visited Erie. Cindy then visited Olympia. Through 2005 they spent all of their vacation time traveling back and forth.
"When we weren't together, we spent hours on the phone," Cindy recalls. "It was crazy because we both realized we had found something completely unexpected and extremely rare and special."
Their love for each other resulted in the decision to spend the rest of their lives together. "It was frightening to leave my family and friends, which I will always miss," Cindy says, "but it turned out to be the best decision of our lives. We've never been happier." Cindy found a job with the Washington State Department of Ecology and, within one month, moved to Washington. They bought a house and married on Feb. 19, 2006. She is now a member of AFSCME Council 28.
Going Strong
While the past 10 years have been full of happiness, the couple has not been free from struggle. In 2012, Doug was diagnosed with a type of cancer called non-Hodgkin's lymphoma. For the next six months, he would have to undergo chemotherapy at the University of Washington in Seattle, 60 miles away.
"Going through something like that changes your whole outlook on life," Cindy says. "Going through this struggle made us stronger and drew us even closer together."
"How Cindy stuck with me was remarkable," Doug says. "She was by my side at every appointment, every test, and every session of chemotherapy."
Thanks to her union contract and her co-workers, Cindy was able to use shared leave on the days that Doug was being treated. It's what allowed her to be by Doug's side. "It was so important for me to be with him," she says, "because we had no idea what the future held for us."
"Cindy was unbelievable," Doug says. "Her love and support is why I'm here today."