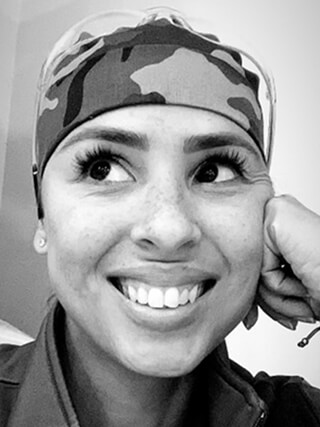 Wave after wave of COVID-19 cases have overwhelmed hospital systems across the country. This has placed a massive strain on staff as they have had to work extra shifts and longer hours to serve their communities while covering for co-workers who have gotten sick with COVID-19 or have even passed away from the virus.
One solution to staffing shortages has been to hire temporary, specialized staff that travel from place to place.
While hiring these mobile workers may, in the short term, address staffing shortages, it also threatens the existing trained workers who show up every day.
"Sometimes the traveling staff can make way more in pay than regular employees make doing the same job," said Vanessa Bello, a cardiovascular technologist at Jackson South Medical Center and member of AFSCME Local 1363 (AFSCME Florida Council 79). "At this point, you can get hired to work the same job at the same place but get paid more through an agency. Why would people not seriously consider doing it?"
Bello and a number of her co-workers decided it was time they pushed for changes that would help retain and attract permanent staff in order to deliver better patient care. So, just before the holiday season, they made use of their newly passed collective bargaining agreement to sit down with management to improve wages and make important policy changes.
"Not only could we not fill open positions, but we were also suffering from major burnout," said Bello. "For a lot of us, not only do we have to work our shifts, but then we have to still be on call throughout the nights or when there isn't enough coverage. And then when you were called in, you still had to turn around and work your scheduled shift. The only way to get any rest was to use your personal time just to get enough sleep."
Thanks to their efforts, 49 employees from across the Jackson Health System, from cardiac catherization technicians to radiology special procedures technologists and more, won pay increases of between $5 and $8 an hour. And when they are called in, they now get a guaranteed 11 ½ hours of rest time before their next shift without having to use their own personal time or forfeit earned overtime.
"I spoke to a few people who were sort of 'I'll believe it when I see it' when we started this," said Bello. "But now, people can see exactly what a difference our contract can make in their lives and why we have to keep standing strong as a union."