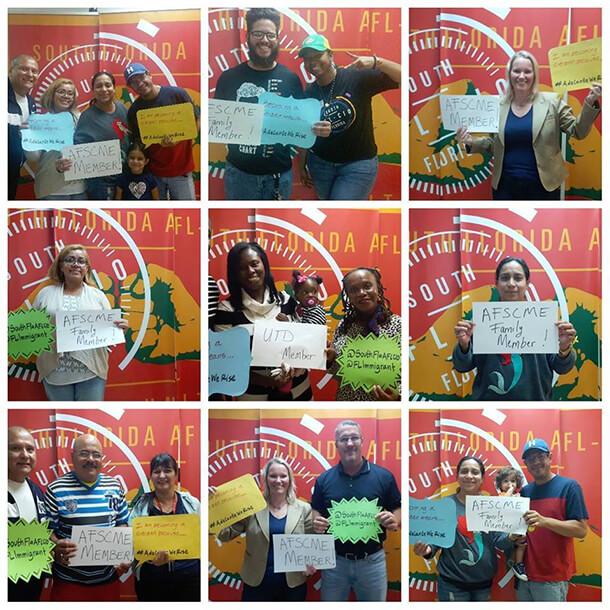 MIAMI – As the Trump administration's deportation policy strikes fear among immigrants nationwide, AFSCME Florida is doing its part to welcome them and help them become full participants in our society.
Recognizing that becoming a U.S. citizen is a confusing, expensive and lengthy process, AFSCME Florida is joining with the South Florida AFL-CIO to host citizenship clinics. At these clinics, people from across the community, including AFSCME members and their families, can get questions answered, access legal help and complete their citizenship applications—all for free.
The first clinic of the year was held on Jan. 28 and drew 11 applicants and their families. More people are expected to attend the second clinic, scheduled for March 25. Other clinics are planned for the summer.
"Several years ago I went to an immigration attorney and he wanted $6,000 to complete mine and my husband's application," said Maria Leyani, a member of AFSCME Local 1184 (Miami), at the January clinic. "I'm a school bus driver. I can't imagine saving up that much. So when I heard AFSCME was offering this service to members and our families, I seized the opportunity. It means everything to me that our union is fighting for me not just at work today but for my family to succeed for years to come."
Katja Poole recorded a video explaining why she drove more than two hours just to take part in the January clinic. A member of AFSCME Local 3879 (Stuart) and an employee of the Martin County Sherriff's Department, Poole said she's looking forward to being a dual citizen now that she has received help in navigating the U.S. citizenship process. She said she's glad AFSCME helped reduce the cost of the process – a roadblock to becoming a U.S. citizen for many people.
For Maria Baylon-Guillen the clinic was an opportunity to give and to receive. Baylon-Guillen is active with the Florida Immigrant Coalition, a co-sponsor of the event, and had volunteered at previous clinics. But she had been unable to go through the process herself, until the January clinic. She joined her mother and older sister in applying for citizenship and stayed afterwards to help others.
"It is terrifying what our country is going through right now in terms of continuing to be the America that is open and welcome to the positive contributions of the immigrant community," said Baylon-Guillen. "That is why it is important for me to both go through the process myself and to help others navigate it, so that more families can have the peace of mind knowing their future in America is protected."