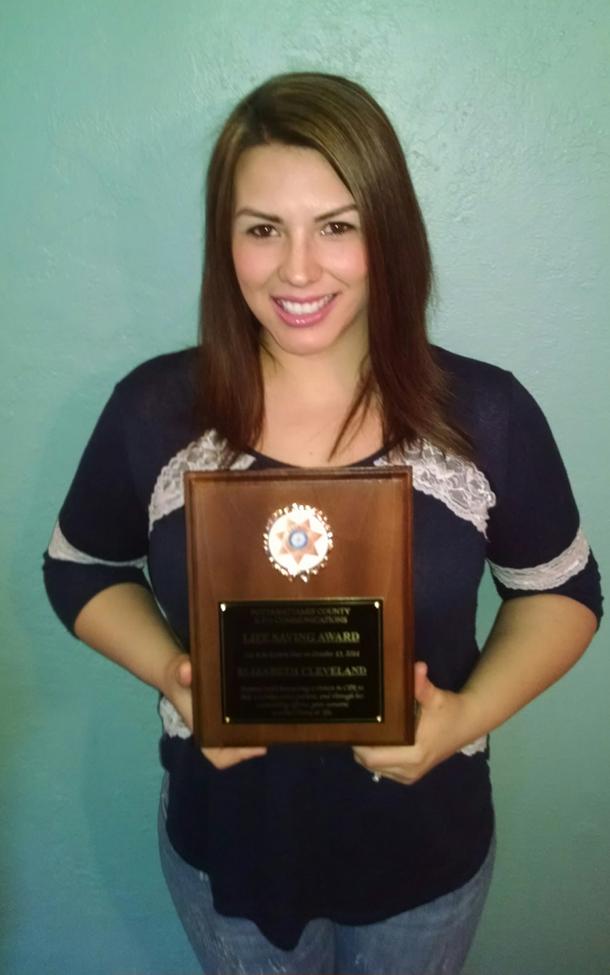 All across America, there are countless public employees who work every day to help keep us safe. Among them is Elizabeth Cleveland, an emergency communications operator and a member of Local 2364 (AFSCME Iowa Council 61).
Cleveland was only a month past completion of her extensive training as an overnight 911 operator for Pottawattamie County, Iowa, when she received an emergency call in the early morning hours of Oct. 16, 2014. The caller said her father was not breathing. It was her first-ever CPR call, but Cleveland walked the victim's daughter and wife through the steps of administering CPR.
"Emotion just went to the side," Cleveland said. "I had to focus on the decisions I had to make to help the person." Emergency services arrived nine minutes into the call and rushed the patient to the hospital. The patient lived and went home after a few days.
Cleveland recently was recognized with a Lifesaving Award for her work that night. While she said she was honored by the award, she noted, "it wasn't just me; the victim's daughter and mother were incredible. The whole communications team did a great job that night. Also, the deputy and fire department personnel who responded had an excellent response time, which made a huge difference in saving the person's life."
The job requires an ability to stay calm and multitask. An operator might have to collect information from a caller, give the person medical advice, and dispatch emergency medical, police, and/or fire services all at once. It also requires a strong grasp of local geography: "Give me a hundred block and I can tell you where that is," remarked Cleveland.
She said the support from her sisters and brothers in AFSCME Local 2364 had been "overwhelming." She added, "We always have each other's back."