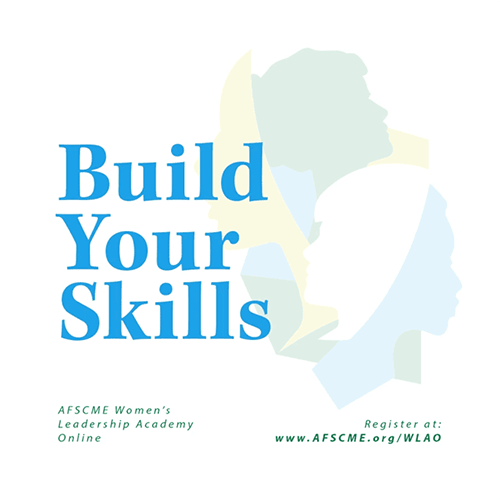 For many years, AFSCME has been committed to initiatives that protect and strengthen women's rights, such as the fight for pay equity, confronting sexual harassment in the workplace, spotlighting work and family concerns, and women's leadership development.
Over the past five years, the Women's Leadership Academy has brought together groups of leaders and activists from across the country to learn new leadership skills and ways to strengthen their local unions.
Now, you can join your sisters in helping shape AFSCME's future and empower your own future. Registration for the Academy is currently open until May 31. Register now at www.afscme.org/WLAO.
AFSCME's new Women's Leadership Academy Online is an opportunity for all AFSCME women to gain a deeper understanding of the issues that affect working women, to strengthen leadership skills, engage politically, and inspire each other to become strong leaders and activists in their workplace.
As a participant, you'll gain insights from experts on various topics pertaining to leadership development and women's issues. And you will be able to set and reach goals that help strengthen your local.
The Academy includes:
Five 60-minute webinars to be conducted once per month from May through October of 2018
A short quiz/evaluation after each session
An AFSCME Strong action to be completed by you, such as engaging in one-on-one conversations with co-workers to increase membership, signing up new PEOPLE contributors in your local, or getting involved in an organizing/political campaign through your local or council/affiliate.
As the Women's Leadership Academy moves online, we plan to carry forward the same energy and knowledge as its earlier iterations.
Here's what previous participants have said:
Cindia "Lynn" Fields, Local 3654, Council 31 (Illinois)
"I feel like the training was transformative. I learned a lot of things that I didn't know before, like the importance of unity within the union, that we're the watchdogs of our own destiny and that we have to make sure people are keeping their word to us. The Women's Leadership Academy made you believe you could go back to your local and implement what you learned."
Lorena Kashiwamura, United Public Workers (UPW), Local 646 (Hawaii)
"I learned how to become a better leader in my union. The Women's Leadership Academy gave me the tools to be more confident. I felt more empowered and enjoyed getting to know my fellow sisters from different locals across the country."
Register now at www.afscme.org/WLAO.