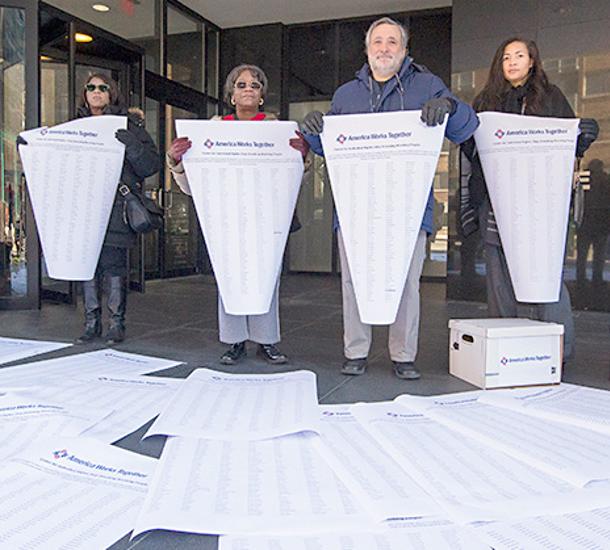 Stephanie Wiley is a child care attendant in Ohio. Every day, she wakes up before the sun rises to help children with special needs who ride the bus to school.
But this week she did something unusual. She flew to Washington, DC, to deliver a petition signed by more than 100,000 workers across the nation, demanding that a special interest group stop its attacks on America's middle-class families.
Wiley has been doing her job for 25 years and does it because she cares about her community. Across the country, millions of public service workers like her – teachers, firefighters, nurses and more – are keeping our communities safe, healthy and running smoothly each day.
But corporate CEOs and wealthy special interests who manipulate the economic rules in their favor are trying to make it even harder for working people to come together, speak up and get ahead.
They've pushed a case all the way to the U.S. Supreme Court called Friedrichs v. California Teachers Association that could make it harder for public workers to serve their communities.
Workers across the country are speaking loudly and clearly to defend their right to a voice on the job. Many signed the petition, which Wiley helped deliver to the Center for Individual Rights, the group behind the case.
The message in that petition was simple: Enough is enough! Stop the attacks on working people.
Public workers don't want their voices silenced, and they're not giving up on the communities they serve. We'll never quit fighting for our jobs, our communities and our families.
Watch Stephanie's story, then click here to add your name to the petition.