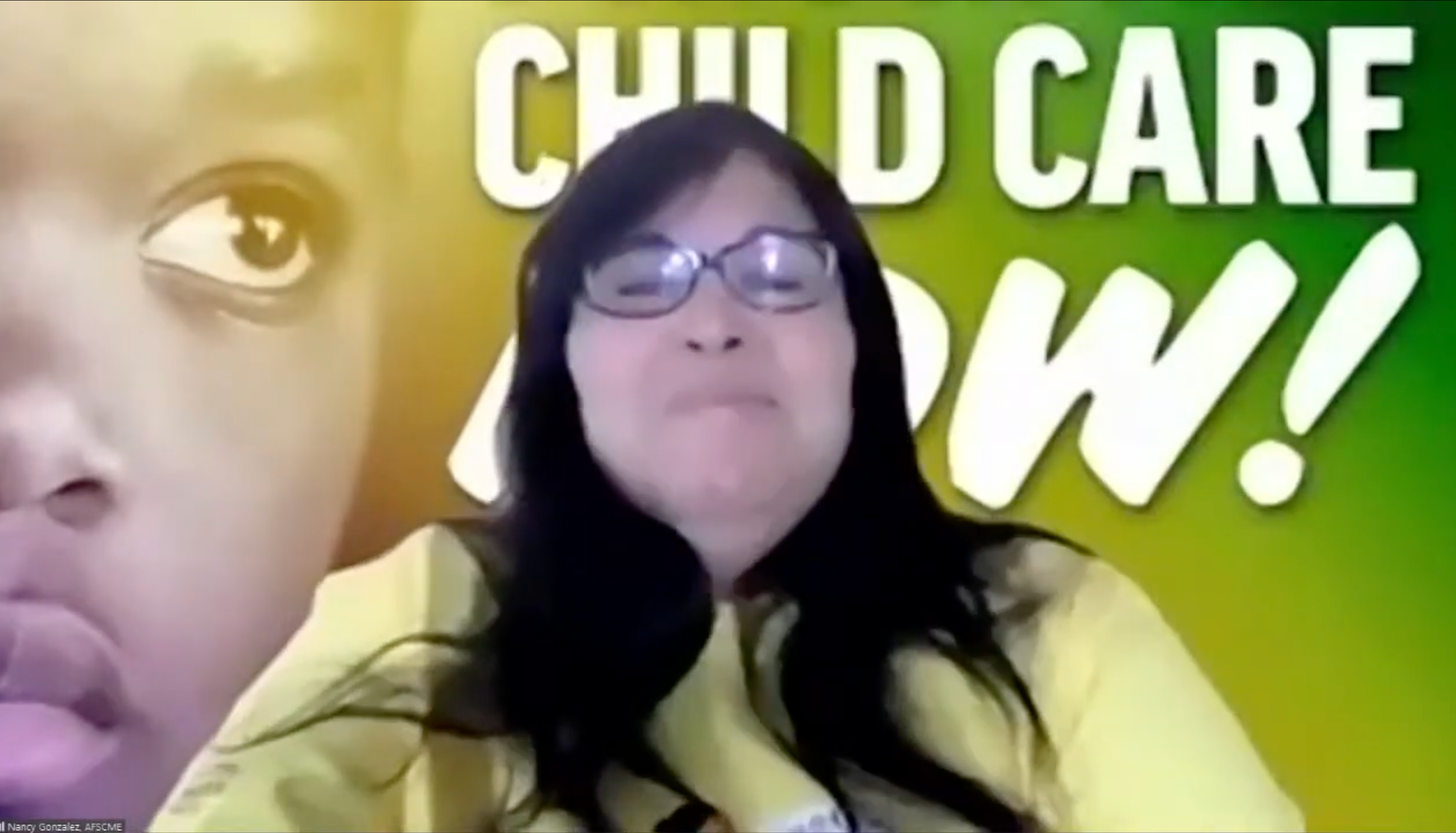 Nancy Gonzalez, a child care provider and AFSCME member, appeared virtually on Thursday at a subcommittee hearing of the U.S. House Appropriations Committee to urge Congress to help make child care more affordable for working families and to pay child care providers a living wage.
Herself a child care provider in California – she owns Lil' Bears Family Day Care in Modesto – Gonzalez said too many working families today are unable to find affordable and accessible child care while providers too often are underpaid and unable to make ends meet.
"It pains me to say this, but our country takes child care for granted, it really does," she told the Appropriations Subcommittee on Labor, Health and Human Services, Education and Related Agencies. "Our child care system is broken – for families who need care and for the underpaid, mostly Black and Brown women, like me, who are the majority of child care providers."
Gonzalez, a member of Child Care Providers United/United Domestic Workers (AFSCME), said Congress can help by doubling the funding level for the Department of Health and Human Services' Child Care and Development Block Grant (CCDBG) program to $12.3 billion for fiscal year 2023. The program provides federal funding to states to help low-income families with children under 13 years of age.
Many family child care providers, especially those who serve mostly lower-income families, are paid directly through such subsidies.
"I urge you to double CCDBG's budget to begin to create a child care system that pays child care providers living wages, entices providers to join the field and stay in it, fixes child care deserts, expands the program to cover more families, and makes high quality child care affordable and accessible to all families," Gonzalez told the subcommittee.
More than half of families in the United States currently live in what are known as child care deserts, or places where child care is either unavailable or extremely limited. The problem is worse in California, Gonzalez said, especially for low-income and Latino families.
She praised the efforts of her member of Congress, Rep. Josh Harder of California, to help with this problem by introducing H.R. 540, the Child Care Workforce and Facilities Act.
"After everything we endured during the pandemic as front-line workers, child care providers can't take much more," she said. "Thousands of providers closed their doors during the pandemic. Many never returned."
A child care provider for 29 years, Gonzalez said she has continued to provide high-quality care despite these obstacles because she cares about her community and the families she serves.
"After all the problems I described, why do I still work in child care? Simple, because I love this work and the children I care for," she said. "So do my fellow child care providers. We love caring for children and guiding the next generation to a strong and healthy future. But we do have futures and families to take care of, too."
Connecticut Rep. Rosa DeLauro, chair of the House Appropriations Committee, agreed with Gonzalez that child care in our country is an industry that has "nearly collapsed."
"We cannot let the child care industry be destroyed," she said. "Families rely on it. We need to make it affordable and accessible and pay good wages to those we trust with our most precious resources, our children."
Some 24 witnesses appeared before the subcommittee on Public Witness Day, including representatives of the American Cancer Society, the American Association of Colleges of Nursing, the National Domestic Violence Hotline, and more.