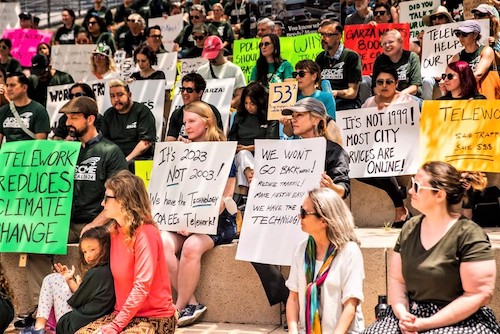 AFSCME Local 1624 members who work for the city of Austin, Texas, are fighting a unilateral and unexpected change in the return-to-the-office policy made by management.
Last month, interim City Manager Jesus Garza released a memo mandating that all city employees must be in the office for at least three days a week beginning in October. Garza said the goal is "to provide top-quality customer service to our residents and foster an organization where team-building is promoted."
But affected city employees say this change will do more harm than good.
Though the mandate would uproot the lives of thousands of city employees, there was little warning about this change prior to Garza's memo.
Robert Eby, a residential green building project manager with Austin Energy, said he did not hear of any input from the employees despite the city manager's claim that a committee led him to make this decision.
"There was no discussion, there was just an e-mail from the city manager saying we've got a (new) policy, here it is," said Eby. "We know nothing about this committee. This was not public. That private committee convened privately. We don't know who was on it, what documentation they referred to make any decisions, what they said, what they recommended."
Most city employees are now only able to work from home for two days a week. Travis County, which Austin is a part of,  has passed a permanent remote policy for three-fourths of their employees. According to Travis County data, remote work saved $1.3 million in utility bills and cut emissions from employee commutes by 30%.
Whitney Holt, a health equity specialist for Austin Public Health, pointed out that this measure goes against several goals that the city has, including Austin's goal of reaching zero net emissions by 2040.
"He is going against City Council's wishes on the climate equity plan with this policy. We aren't even close to net zero emissions. When you look at all the other goals, telework is literally the only achievable one between now and 2040," Holt said. 
Local 1624 members are preparing for a fight. After releasing a statement that objects the proposal, members held a "Rally to Save Telework" on June 1.
"When the city won't listen to us, I know the union's got my back," Holt said. "I've connected with people across different departments to share not just my vision for how workers deserve better, but also how fellow municipal workers are trying to do right by the communities that we serve."
One worker who would be severely affected by the policy change is Jewelee Dickens, a business process consultant at Austin Transportation and Public Works. She must add three extra hours of daily commute time, which she says will turn her life upside down as a single working mother.
"Going to an office is actually going to make us less productive," said Dickens. "I have a teenage daughter at home who's struggling with her mental health. When I telework, I encourage her … before starting my day, and I take her to her counseling appointments during my lunch break. If I have to leave at 7 a.m. to drive an hour and a half to the office, I just won't be able to do that."