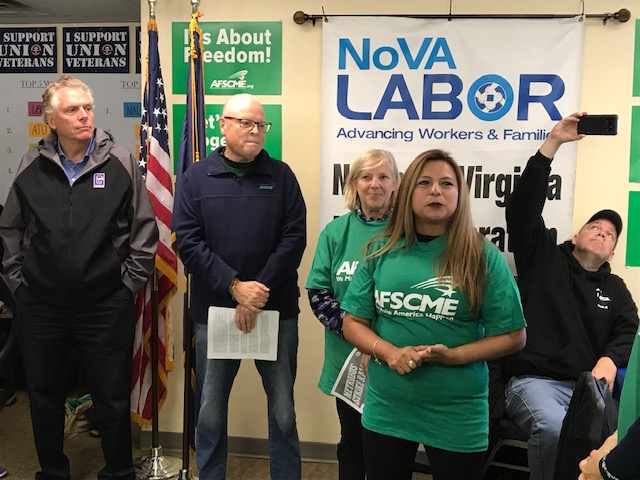 Hundreds of union members, including AFSCME members, came together this past weekend in cities in Virginia to knock on doors and encourage people to vote on Election Day on Tuesday, when all seats in the House of Delegates and state Senate will be up for grabs.
It will be the first commonwealth-wide election since 2017, when worker-friendly lawmakers won the governorship and came within one seat of taking control of the House of Delegates.
Political winds in the Old Dominion are shifting. Should working families win big, even more Virginia residents could finally get access to the affordable health care they need and gain a seat at the table to earn better wages, lift up their families and strengthen their communities.
New Jersey, Kentucky, Minnesota, Florida, Philadelphia, Houston and Indianapolis are some of the other states and cities where much is at stake for working families and AFSCME members are getting out the vote for gubernatorial, legislative or local races.
Here are some of the candidates AFSCME supports in Virginia:
Speaking at the AFL-CIO office in Annandale on Saturday, AFSCME President Lee Saunders stressed that a strong victory in this election would be yet another sign of the political and grassroots momentum behind working people and their labor unions.
"We have a chance to elect the most worker-friendly state legislature in at least 25 years here in the Commonwealth of Virginia," Saunders said. "As a labor movement, we have more momentum and stronger wind at our back than any time I can remember, with presidential candidates embracing unionism and a rising wave of worker activism across the country."