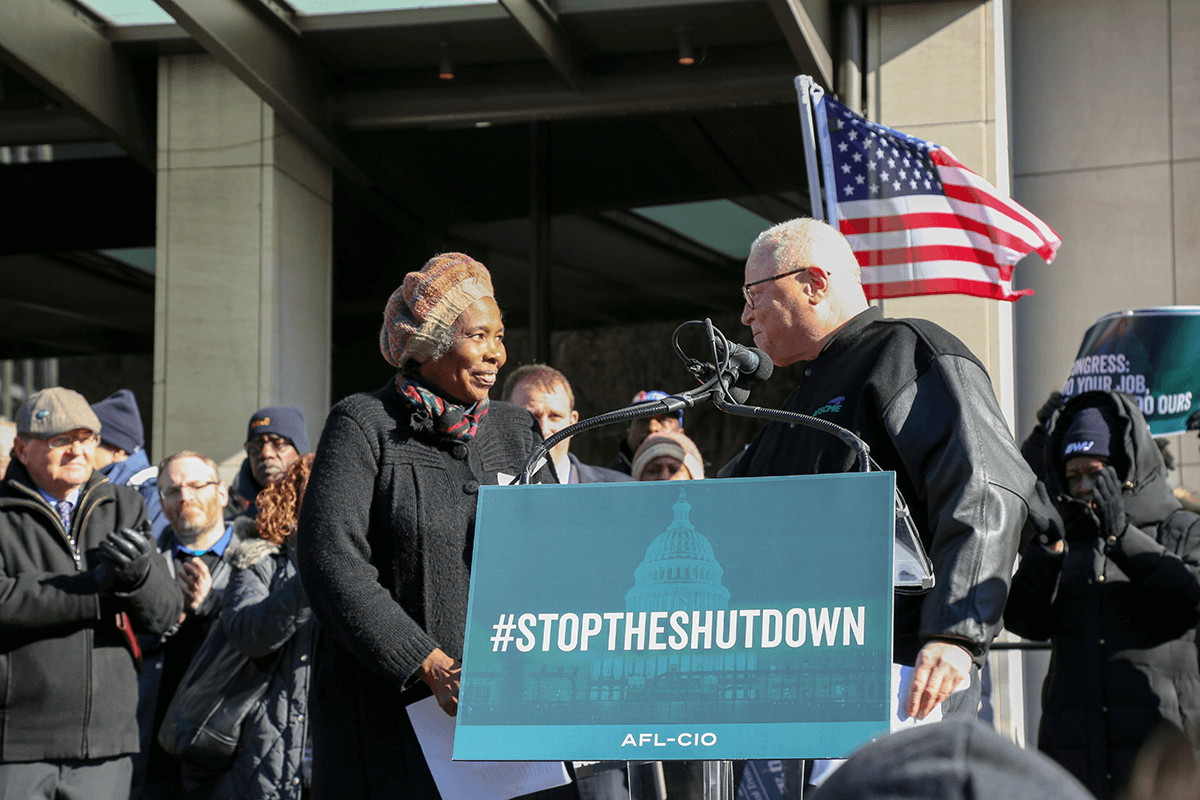 AFSCME members today joined furloughed federal workers in Washington, D.C., to call for an end to the government shutdown. Altogether, thousands of people marched from the headquarters of the AFL-CIO in downtown D.C. to the White House, demanding that 800,000 federal workers return to their jobs and receive their paychecks.
"This shutdown is hurting our families and our communities," said AFSCME President Lee Saunders. "Public health is jeopardized. Consumer protection is compromised. Many national parks are overrun with garbage. Food assistance for low-income families is at risk."
Saunders was one of two dozen speakers outside the AFL-CIO who urged President Trump and Sen. Mitch McConnell (R-Kentucky) to reopen the government. AFSCME represents about 3,000 federal workers.
Janice Fridie, a federal employee and a member of AFSCME Local 3097 (Council 20), told the crowd that her experience since the closing of the government has been "a roller coaster ride."
"Like everyone else, I have bills: mortgage, heat, water," Fridie said. "And my student loans still need to be paid. My creditors want cash, not IOUs."
"Federal workers are a community," Fridie added. "We work together to support each other and all the citizens of this nation. We do this work because we care about our country and our justice system."
Other speakers at the rally included Sens. Bernie Sanders (D-Vermont), Chris Van Hollen (D-Maryland), and Mazie Hirono (D-Hawaii). Labor leaders included Richard Trumka, president of the AFL-CIO; J. David Cox, president of the American Federation of Government Employees (AFGE); and Randi Weingarten, president of the American Federation of Teachers (AFT).
Today was the 20th day of the government shutdown, making it the second longest since 1976. It began after President Trump refused to approve a federal budget unless it included $5.7 billion for a wall along the U.S.-Mexico border.
Many of the speakers blamed Trump and McConnell for the impasse in budget negotiations, characterizing the shutdown as hostage taking. Senator Hirono called Trump an "amoral hostage taker" and referred to his proposed wall as a "vanity wall." Senator Sanders urged Trump to "grow up, do your job, and end this shutdown."
President Saunders called the shutdown "a manufactured crisis and imaginary security threat" intended to "advance a dishonest, divisive agenda based on fear and paranoia."
"No one chooses a career in government to get rich," Saunders also said. "You do it because you care about your country and your communities. You do it because this work matters. And you deserve better. You deserve better than to be slandered and scapegoated. You deserve better than to be held hostage to outrageous political demands."