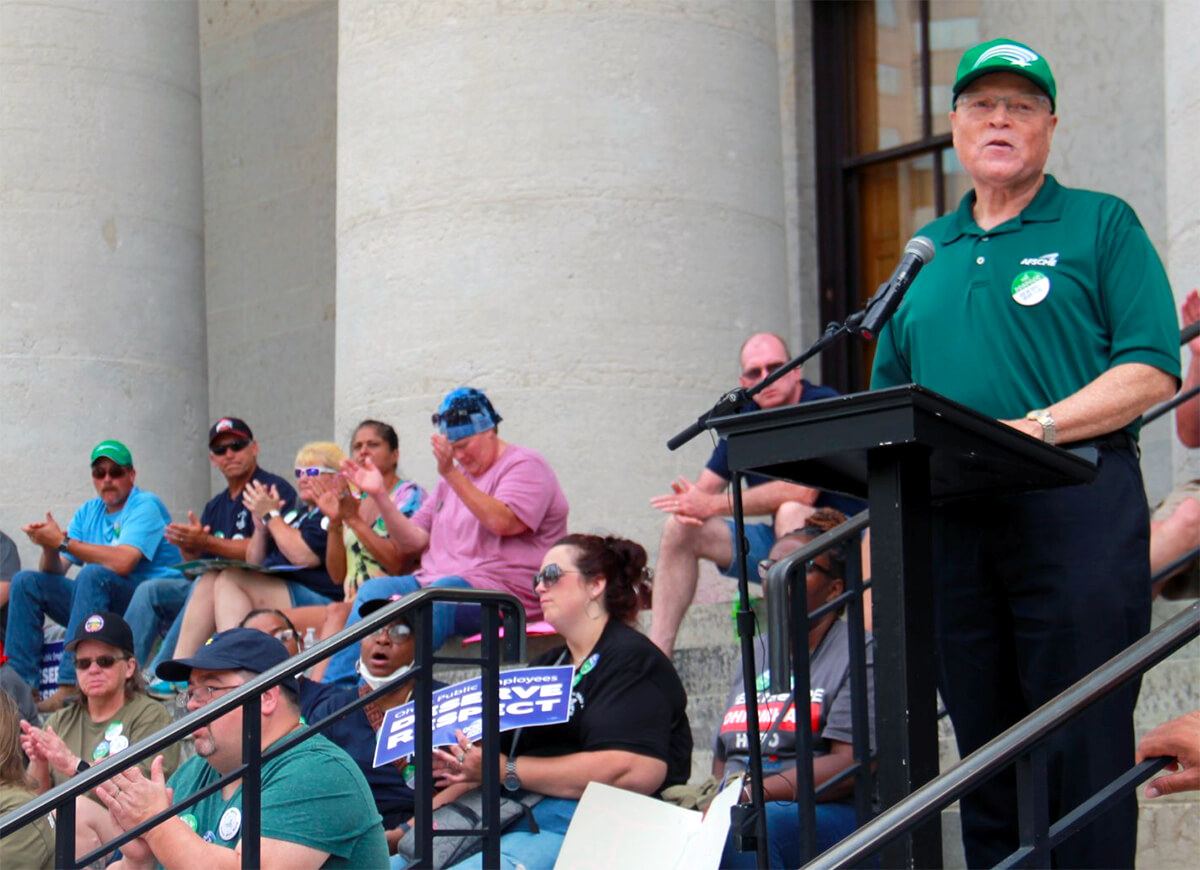 COLUMBUS, Ohio – Hundreds of members and retirees of OCSEA, OAPSE, AFSCME Council 8, and other Ohio unions rallied at the Ohio Capitol on Friday to demand recognition for the work and sacrifices of state employees who served on the front lines during the COVID-19 pandemic.
Led by AFSCME President Lee Saunders, OCSEA President and AFSCME Vice President Chris Mabe and other Ohio labor leaders, the rally was in response to an egregious arbitration ruling that found that state employees were not eligible for contractual emergency pay because the pandemic was not a declared "public safety emergency."
Many of the 27,000 Ohio state workers represented by OCSEA worked through the pandemic, at great personal risk to themselves and their families. OCSEA members working in public health, corrections, behavioral health, nursing, custodial, and hundreds of other jobs faced daily exposure to COVID-19, often with little personal protective equipment (PPE), and, in many cases, in understaffed, dangerous environments.
"Our members showed up. They were professional and effective. Every day they walked into settings that would potentially get them sick, get their families sick or worse," Mabe said at the rally. "To say this wasn't an emergency is absolutely ridiculous."
The OCSEA master contract allows for emergency pay when the situation calls for it and during a public state of emergency, but an arbitrator sided with management, ruling that the emergency pay OCSEA members had negotiated was not applicable because there was never a declared public safety emergency.
However, according to OCSEA, Gov. Mike DeWine could decide to award state employees emergency pay at any time.
"When you're out there on the front lines, you're not thinking about the semantics of what's a 'state of emergency' versus a 'public health emergency.' All you know is your community needs help, and you're going to do everything you can to provide it" Saunders said at the rally.  "Governor DeWine: Show us some respect. You declared a state of emergency. Now give state employees the emergency pay they have more than earned."
"Just like we don't walk away when our communities need us, we don't back down when it's time to fight for respect," Saunders added. "We will prevail in this fight, because the entire labor family stands together in solidarity. When we are united, we cannot be defeated."
OCSEA member Leslie Fogherty, a licensed nurse practitioner at Northcoast Behavioral Healthcare, said, "They shut down the country, how do you say that's not an emergency? I'm fully vaccinated and got COVID twice. I got sent home, at 70% pay, using my own sick time."