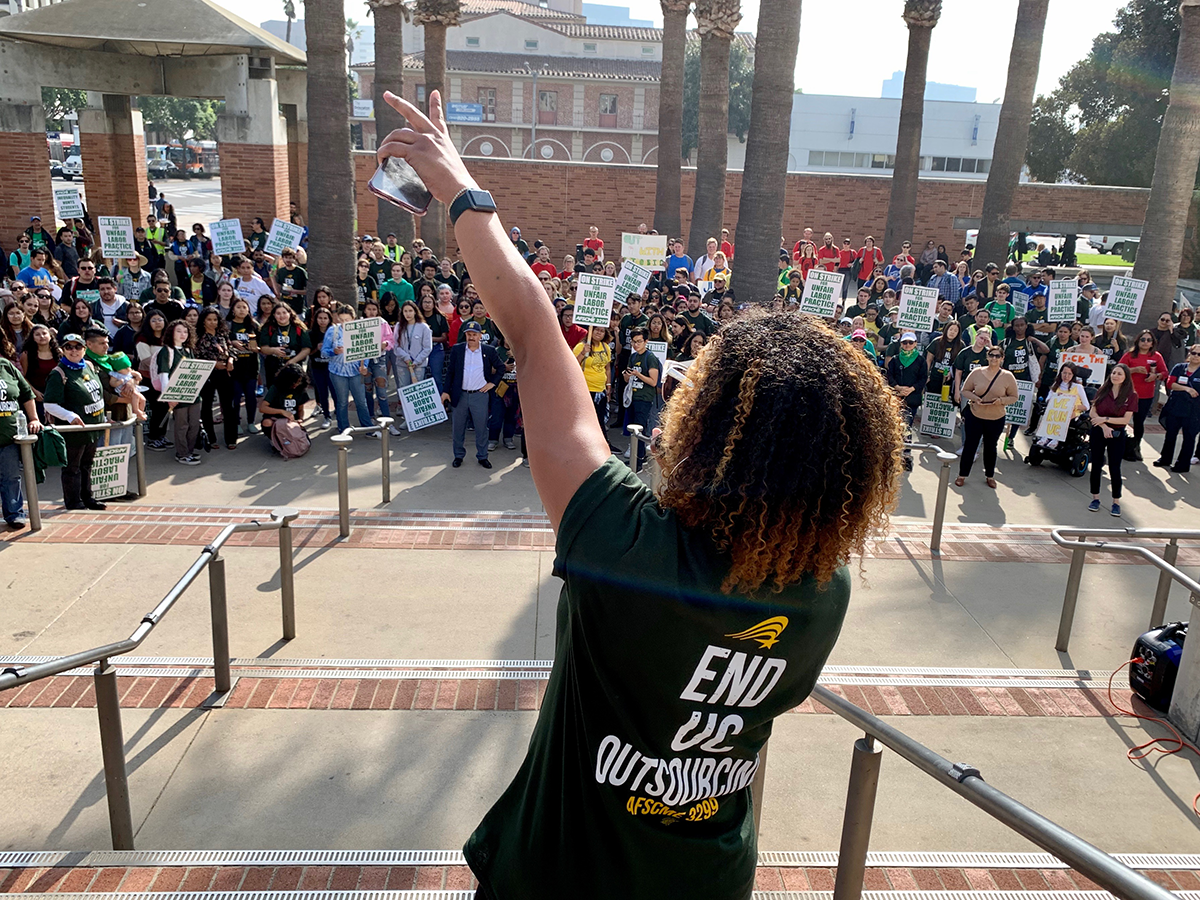 Thousands of service and patient care workers for the University of California system held an unfair labor practice strike in 10 campuses and five medical centers over new allegations tied to UC's outsourcing practices.
Wednesday's statewide strike was called by AFSCME Local 3299 after the union filed six new charges against the UC system. These charges detail UC's efforts to secretly expand its outsourcing of AFSCME-represented UC service and patient care jobs to low-wage contractors, while evading legal disclosure and bargaining obligations.
This is the latest in a series of strikes by Local 3299 members in the past year over unfair labor practices related to outsourcing and pay inequities.
"In the four corners of UC's classrooms, they are teaching students social justice. It is time to take it out of the classroom and practice it," said Ruth Zolayvar, an inpatient pharmacy tech at UC San Diego Medical Center. "This is about dignity for patients. Dignity for workers. Dignity for our students."
Kennard Harris, a pharmacy technician at UC Davis Medical Center, said seeing so many AFSCME members join the strike "renews my energy and passion to keep going until we win what we deserve, which includes keeping our very jobs from being outsourced."
"AFSCME is a family and I am filled with love for my family after seeing how united we are to keep up the fight, no matter what," Harris said.
State and local elected officials, community allies, labor leaders and co-workers from other unions joined the striking AFSCME members to call for an end to the outsourcing practices. Many of them pointed to a 2017 state audit that found UC was displacing its lowest paid career employees in favor of private contractors who pay their workers substantially less.
Recently disclosed documentation provides dozens of examples of UC circumventing its own competitive bidding policies to avoid negotiating with its own employees. For instance, UC contracts out security guard work at one of its Office of the President buildings but exempts the contractor from UC's own minimum wage policy.
On one of the charges, the State's Public Employment Relations Board has already found sufficient evidence exists to issue a formal complaint against UC. This summer, the university disclosed to state legislators that it has increased its spending on outsourcing jobs normally done by its own service and patient care employees by 52% since 2016.
"UC's illegal outsourcing not only eliminates middle class career pathways – it unilaterally imposes lower wages, more inequality, and more risk of employer abuse on thousands of vulnerable workers," said Monica De Leon, a member of AFSCME 3299's Unfair Labor Practices Committee and a unit service coordinator at UC Irvine "We will not rest until this lawlessness stops."
After years of disregarding workers' concerns over outsourcing and opposing enforceable measures, UC regents proposed a new policy during the strike that promises to "generally prohibit outsourcing," insource more contract work and guarantee that UC contract workers will be paid on par with employees who perform similar jobs.
While Local 3299 leaders recognize this as progress, they reminded the UC administration that it has routinely violated its own "policies" to accelerate outsourcing.
"A policy is not a contract," said AFSCME 3299 President Kathryn Lybarger, who addressed the university's Board of Regents on Wednesday. "If you are serious, stop opposing the state legislation and binding contract language that could actually deliver what your policies promise. Until then, we will not be silent in the face of your law breaking."