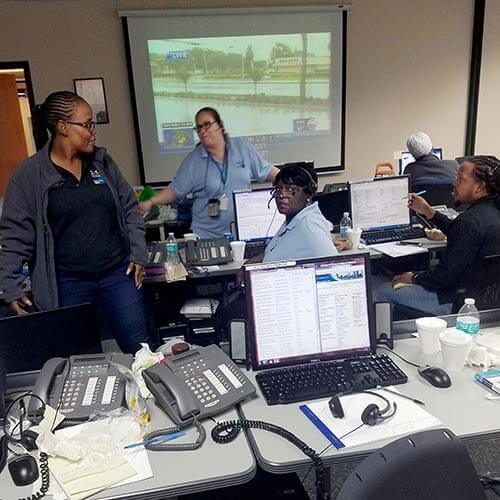 TALLAHASSEE, Florida – AFSCME Florida members stood ready to soften the blow of Hurricane Irma as the historic storm slammed into Florida over the weekend.
With poise, skill and dedication, they sprang into action for their communities and their neighbors and are determined to help Florida recover once Irma moves on.
Working days on end to field incoming calls at Miami's 311 call center, Lorraine "Ms. Purple" Brown, a member of Local 199, shared information with worried Miamians, calmed fears and routed calls to the appropriate agencies.
"We will be open 24/7 until the danger passes. I'm not leaving until maybe Monday at the earliest," Brown said in a phone interview Saturday. "When possible, we just close our eyes and sleep a little at our desks – 15 minutes here or there. We have access to showers and food, but all of us would rather be on the phones helping people. We can sleep later."
Keeping people safe was only part of the battle. AFSCME members are also entrusted with making sure Miami's infrastructure was ready for the onslaught.
Drexwill Ferguson, who normally handles air conditioning equipment in South Florida, took on a different role during Irma, making sure that power-generated facilities are properly secured and powered down to avoid fires or other mishaps.
"I'm always prepared. You can't eliminate all danger, but doing my job and doing it well lets me make sure we can cross off some basic problems," Ferguson said.