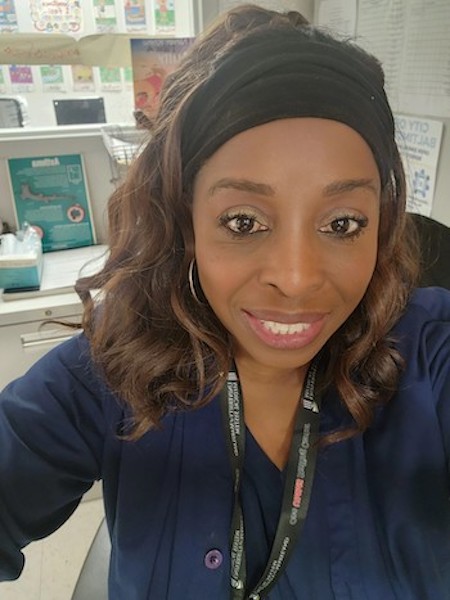 Wendy Smith is a community health nurse for the Baltimore City Health Department. Every day, she works within the school system to provide health services to students.
But during the COVID-19 pandemic, she and her co-workers went into emergency mode.
"All the community health nurses stopped our work in schools, and we had to go out in the community to administer vaccines, as well as test for COVID," says Smith, a member of AFSCME Maryland Council 3. "We also provided information for those who were COVID positive and maybe needed that higher level of care."
Smith says she became a nurse because she wanted to help people and, like many of her co-workers, she worked through the pandemic despite the risks. The days were long, but they stuck through it.
"We were so overwhelmed," she says. "There were so many days I was at work and felt like I couldn't even breathe. I was so exhausted and overworked. The need was so great. There was no such thing as being done with work. There was always somebody else who needed our help."
And yet despite a return to normalcy — Smith is back to her day-to-day work supporting schools — her workplace doesn't feel the way it used to. After all their sacrifices, Smith says she and her co-workers feel undervalued and taken for granted.
"Management doesn't understand the problem," she says. "They always err on the side of profit over people — even at the risk of the public and nurses. … We did get some additional pay, but to sustain us long term, we need more."
Public service workers across the country are finding themselves in a similar situation: The many public service jobs that were lost during the pandemic led to vacancies that remain unfilled. This means AFSCME members on the front lines are being forced to do more with less, assuming greater workloads and working longer hours with little if any additional pay.
"You need people to roll out a public health initiative," Smith says. "With less people, it makes our job harder. It's hard to attract people, and then even harder to retain people."
That's why AFSCME launched Staff the Front Lines, a massive retention, recruitment and outreach initiative to address these public service worker shortages. AFSCME members across the country are organizing to recruit qualified and passionate professionals to fill these vacancies, bringing relief to front-line workers and ensuring their communities continue to receive the quality public services they need and deserve.
Smith says that despite the challenges, she will stay at her job because she believes in her mission as a nurse.
"I really do care about the community and patients," she says. "I understand that what I do and what so many of my colleagues do makes a difference. A lot of times we know that we are the only access to health care some folks might get."
She also knows, she says, that being part of a union means there is a path toward finding solutions.
"Where we are organized, we have a way of bringing our issues to the individuals who have decision-making power, and hopefully we are in a position of doing more," Smith says. "We are in a better position to talk to management."