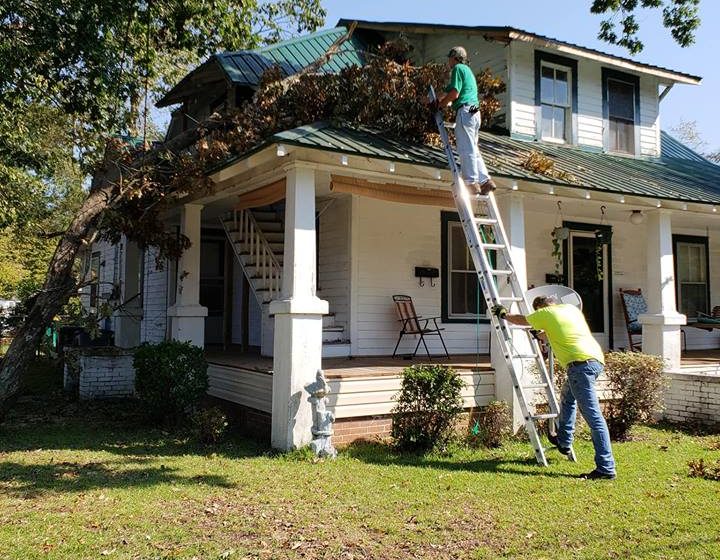 Helping others is nothing new for Kevin Trafka, president of AFSCME Local 2944 (Council 13).
What is new, however, is the level of destruction he saw in Lumberton, North Carolina, where he and several fellow AFSCME members, public works employees from the Harrisburg area, went to aid victims of Hurricane Florence.
"It was gut-wrenching," said Trafka.
Trafka is no stranger to helping others who've experienced a natural disaster. In 2017, he traveled to Florida to help victims of Hurricane Irma. In 2016, he traveled to Tennessee to help wildfire victims. But he said the scene in North Carolina was the worst he has seen.
"We have an opportunity as employees of the township [of Swatara] and members of the union to do something good for others who need it," he said.
They did just that by launching "Operation Fill The Truck," which filled three trucks, including AFSCME Council 13's box truck, with donated supplies. They embarked on a 14-hour trip from Pennsylvania to North Carolina, where the supplies were delivered to a church, which saw to it that victims got what they needed.
"We were greeted by about 30 or so members of the congregation," recalled Trafka. "It was quite a reception. When you roll up and see them all outside clapping, you know all the work is worth it."
In addition to delivering supplies, the crew offered manpower to assist with removing trees, clearing roads, hauling debris and cleaning out homes.
Local 2944 members Bob Horner and Brenden Orth joined Trafka on the trip, with help on the front-end by Local 2944 members Adam Sikorski, Chris Stipe and Mark Bradnick. Council 13 Facilities Manager Kevin Doeing drove AFSCME's truck full of supplies.
Thanks to some community-minded public employees, union members and good Samaritans who never quit, Hurricane Florence victims' lives were made a little easier in their most desperate hour.
Editor's note: Please check back in the coming days to learn how AFSCME members have been affected by Hurricane Michael and aided survivors.