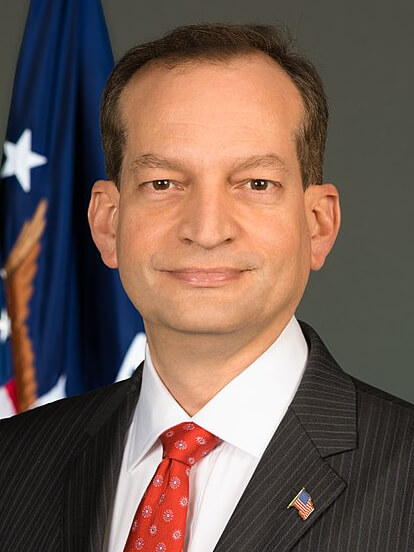 When Labor Secretary Alex Acosta resigned last week, he became the most recent member of President Donald Trump's Cabinet to depart under a cloud of impropriety. The high turnover of both Cabinet-level and other high-ranking officials embodies this administration's consistent theme of chaos over quality.
"Secretary Acosta's resignation was long overdue," said AFSCME President Lee Saunders in a statement. "Working people need a strong advocate at the Labor Department, someone who shares their values and priorities, someone who will fight for their rights and freedoms. It's time for President Trump to finally nominate such a person as the next labor secretary."
Unfortunately, filling Acosta's job will be acting Secretary of Labor Patrick Pizzella, whose anti-worker history shows he's anything but the "advocate" workers need.
Saunders elaborated: "Pizzella has a long history of hostility to workers' rights and to unions. Pizzella had an abysmal, anti-worker track record during his time at the Federal Labor Relations Authority. In addition, his work with corrupt and disgraced lobbyist Jack Abramoff to undermine minimum wage protections ought to be disqualifying."
Instead of pushing the interests of big business, workers need a labor secretary who's focused on protecting them and ensuring they receive a fair return for the work they do. Workers need a labor secretary who'll take specific measures, like reviving a fiduciary rule, finalizing a more reasonable threshold under which employees are automatically eligible for overtime pay, or establishing a workplace violence safety and health standard, Saunders said.
In short, what workers need is a labor secretary who will fight for them and not push laws that work against them.