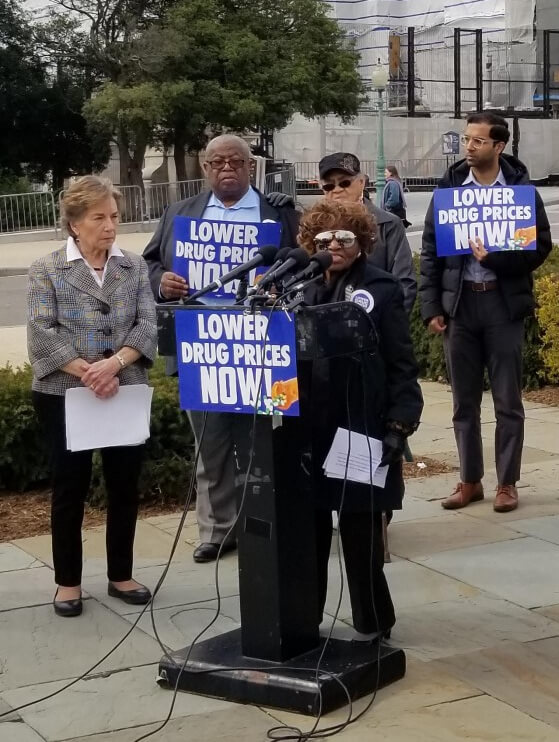 WASHINGTON – AFSCME has long fought for lower prescription drug prices and the federal government's ability to negotiate on behalf of seniors covered by Medicare. This fight has often been led by AFSCME retirees.
This week, Josephine Ball, a Maryland AFSCME retiree, joined congressional lawmakers in calling on the federal government to make sure that any coronavirus vaccine or treatment developed with taxpayer dollars is affordable for and accessible to all Americans.
"When there is a safe and effective vaccine for this virus, I want to be able to do the right thing and be vaccinated," said Ball, a former registered nurse. "But will Medicare cover it? Will it cost too much? No vaccine can protect us from illness if it's priced out of reach."
Ball spoke at a Capitol Hill press conference Thursday alongside Sen. Chris Van Hollen (D-Md.), Rep. Jan Schakowsky (D-Ill.), Rep. Lloyd Doggett (D-Texas) and advocates from the Lower Drug Prices Now coalition, which seeks affordable medicines for all and wants to hold drug companies accountable.
Ball said older people like her are especially vulnerable, and costs must be kept down to guarantee an effective response to the spread of the virus.
"Because of my age and my chronic conditions from head to feet I am at a higher risk of serious illness or even death if I contract the coronavirus," she said. "As a nurse, I know that in a public health emergency we all benefit when everyone does the right thing to keep themselves, their families and the public healthier."
She added that workers "must not incur additional costs when they do the right thing to protect public health and keep themselves safe, like getting tested for the virus if they work around vulnerable populations. … We must not let cost put off workers or retirees from doing what they should do to protect themselves and the public."
The coronavirus continues to spread worldwide, with more than 100,000 people infected in dozens of countries, including more than 200 cases in the United States. Congress quickly approved and President Donald Trump on Friday signed an $8.3 billion spending bill to fight the outbreak, but the Trump administration's response to the health crisis has been slow and ineffective.
AFSCME President Lee Saunders praised Congress for acting quickly to release emergency funding and blasted the White House's bungling response.
"The Trump Administration's incompetence in handling the coronavirus public health emergency must end. Shrugging off its responsibility to accurately report the number of cases in the United States, slow-walking the ability of people to get tested and the president's own dangerous disinformation about the virus itself is making it harder for us to do our jobs in combating this deadly outbreak," Saunders said in a statement.
Many AFSCME members do jobs that will bring them in contact with potential coronavirus victims. Our members care for patients in hospitals, nursing homes, group homes, mental health care facilities and in their own homes. They work in state public laboratories testing for the virus, provide transportation, sanitation and public works services in our communities. They drive students to school and keep them fed and safe.
The $8.3 billion coronavirus funding measure contains $10 million for worker training that AFSCME fought to include. This training will help to limit exposure for hospital employees, emergency first responders and others on the front lines combatting the virus. The measure also includes more than $2 billion for prevention and preparedness programs – of which $950 million will support state and local health agencies.