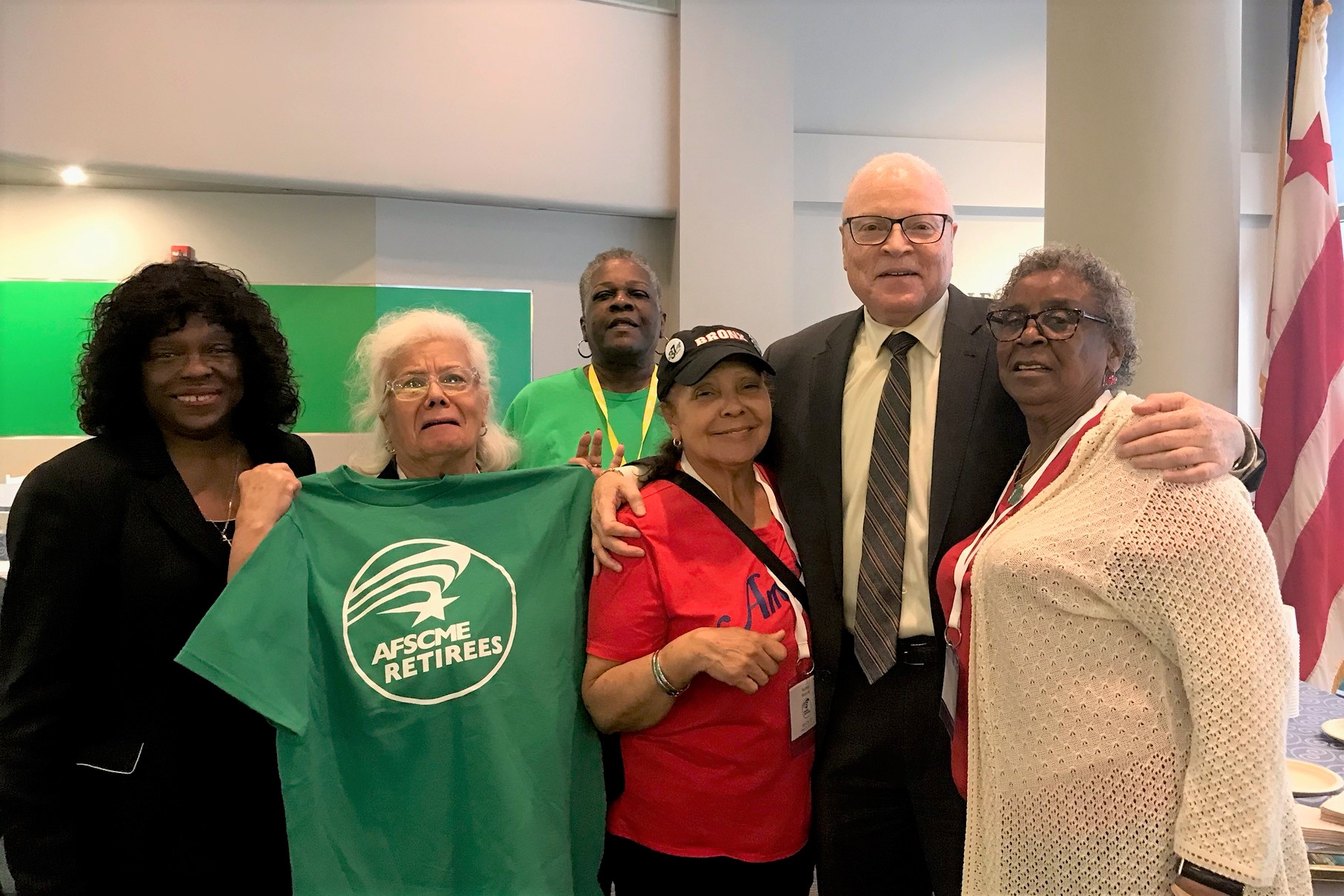 For their annual Retiree Council Meeting, held this week in Washington, D.C., AFSCME Retirees strategized, organized and made their voices heard on Capitol Hill, capitalizing on the surging union momentum that has energized the labor movement and swept across America's workplaces.
Retirees refuse to let up when it comes to protecting the rights of public service workers who've spent careers serving their communities.
On Wednesday, they visited Capitol Hill to talk to representatives and senators about a host of issues, including protecting the rights of workers to collectively bargain through the Public Service Freedom to Negotiate Act, which would safeguard public service workers' right to a seat at the table by setting a minimum nationwide standard of collective bargaining rights that states must provide.
Retirees also urged members of Congress to protect Social Security, Medicare and Medicaid by sharing firsthand stories of how they rely on these programs and the harmful effects cutting them would have on their lives. They also urged representatives and senators to fight for affordable prescription drug prices, while seeking to protect the Affordable Care Act against attacks by the White House.
"It was really a nice experience," said Charlie Muller, a member of Nevada Retirees Chapter 4041 and a former correctional lieutenant. "We talked to Senator Catherine Cortez-Masto, and we really felt like she wanted to get to know each of us and find out what we did. We felt she really heard us."
AFSCME President Lee Saunders applauded the retirees for their aggressive organizing efforts, which reflects our union's growth agenda.
"AFSCME Retirees are on fire. At a moment when our union faced one of its sternest tests and stiffest challenges, no one stepped up like you did," said Saunders. "No one was more resilient and resolute. You made a decision to focus like a laser on organizing, and you've gone out and gotten it done."
In 2018, AFSCME Retirees enjoyed its biggest growth spurt ever, adding a record 18,638 members.
Retirees also participated in AFSCME's Implicit Bias training, facilitated by the AFSCME Education Department, which helps identify built-in racial and economic prejudices while fostering dialogue across different communities.
The importance of that session was emphasized by AFSCME Secretary-Treasurer Elissa McBride, who said, "Now more than ever, we need to talk, listen, and connect with each other across lines of difference. As a union that fights for all working people, we need to continue to build the power and capacity to survive and thrive in any environment, including one where we're being pitted against one another. Understanding implicit bias is an important tool in that struggle."
For David Jacobsen, a former health educator and program administrator from Florida Retiree Chapter 79, the training "reminded me of positive trainings I'd had in state government. It reinforced some important concepts I haven't heard in a while."
If this convention is any indication, retirees will remain a powerful force within AFSCME long into the future.