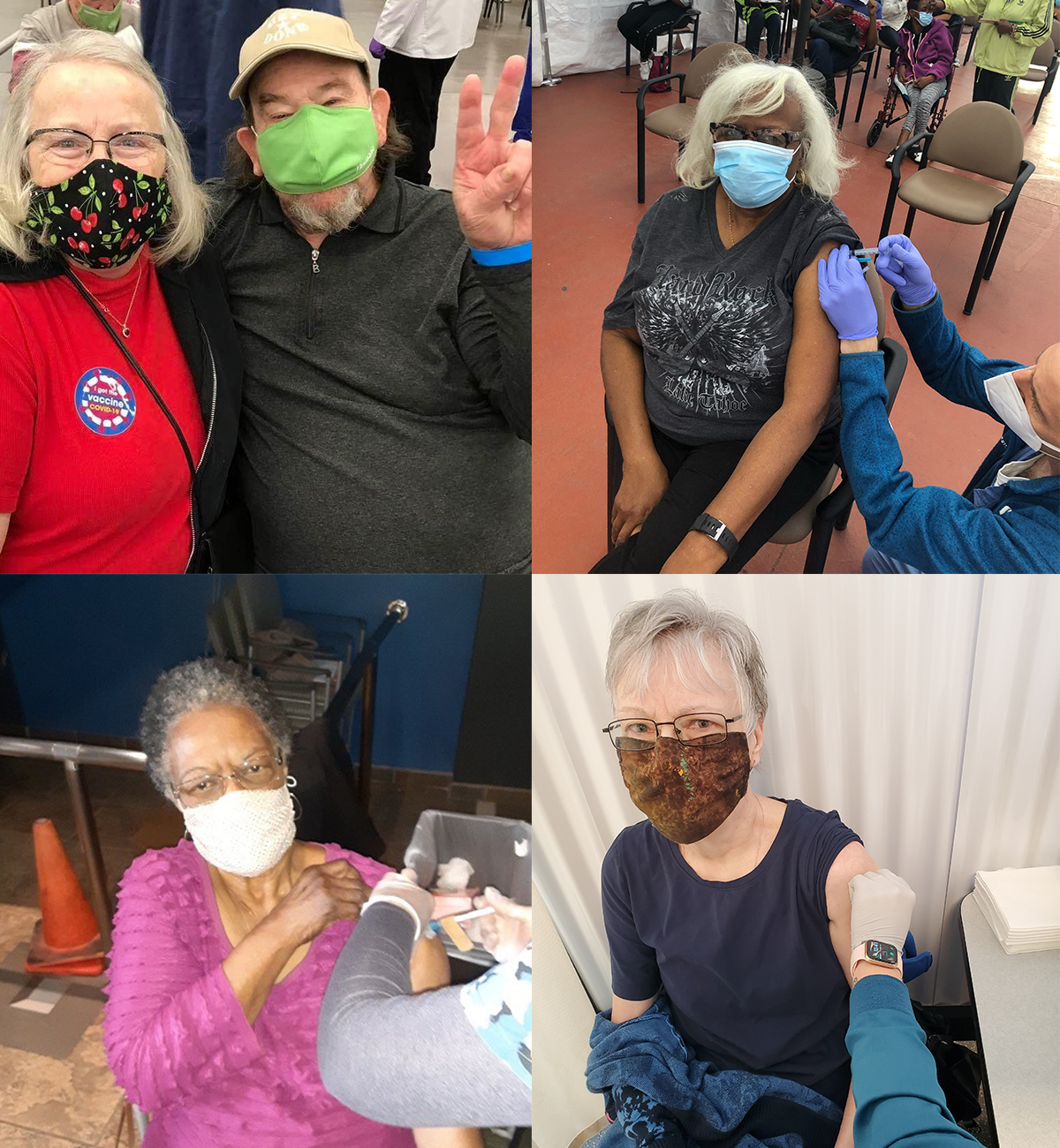 As the COVID-19 vaccines become more readily available across the U.S., AFSCME Retirees have a simple message for their fellow retirees and seniors: Get the vaccine when you are able to.
Spuds and Marie Terry, who live in West Virginia, stressed how important it is for their fellow retirees to get vaccinated.
"Here in West Virginia," noted Spuds Terry, who has been the president of AFSCME Retirees Chapter 77 for nearly 20 years, "we're making great headway."
While each state has its own vaccine rollout schedule, seniors are among the first citizens eligible to receive the vaccine.
"I'm 77 and my wife is in her 70's," Spuds Terry said recently. "We just got our second dose of the vaccine. AFSCME Retirees have always been at the forefront of fighting for workers. They should be at the forefront of getting vaccinated when they can."
Take it from former nurse Sonia Mosely, a member of California's Retiree Chapter 1199 UNAC, who has received her first dose and is awaiting her second dose.
"Retirees need to get the vaccine," said Mosely, who said that while her arm was a little sore after the shot, she experienced no other adverse side effects. "It's really important for us retirees who are older, because we're more susceptible to the virus."
The elderly and those with preexisting conditions are at a higher risk for having to be hospitalized or dying from COVID-19. And there's no need to worry about taking the vaccine because they have been proven safe and effective. AFSCME has even held two roundtable discussions with top experts to share information about the vaccine and its safety.
Another former medical professional, Wisconsin retiree and former public health nurse Sue Conard, who has deep experience in distributing vaccines, is also calling on others to get vaccinated.
"We don't want to think of ourselves as more vulnerable, but as we age, our immune system drops," said Conard. "Many of us also have chronic health conditions. That makes us more likely to be sicker and have more complications [from COVID-19].
Conard reminds retirees: "We're important to our families and our communities. We're going to be a part of stopping the spread of this disease."
Meanwhile, for Jeanetta Adams, president of AFSCME Retiree Chapter 36, receiving the coronavirus vaccine in Los Angeles proved to be an "AFSCME" affair: the physician who administered her shot was also a member of AFSCME's UAPD local.
For Adams, getting the vaccine was a relatively quick, easy and painless process, one she encourages her fellow retirees to pursue as soon as they can.
"I encourage everyone to get their vaccine so we can end the pandemic sooner rather than later," she said.