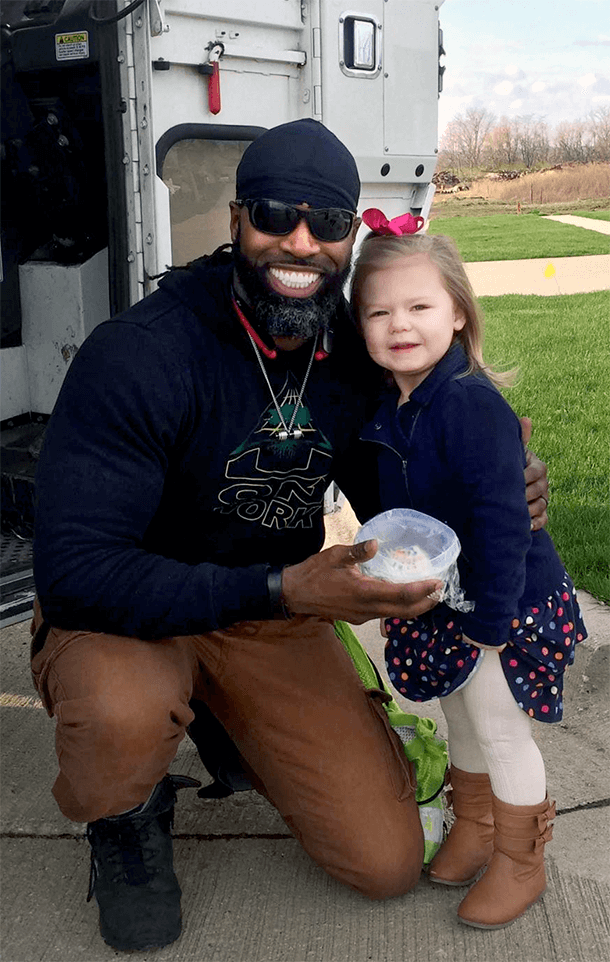 When the special friendship between a three-year-old girl and an AFSCME Local 699 sanitation worker in Bloomington, Illinois, went viral, the world got a lesson in kindness—not to mention the humanity of the working men and women we rely on to provide public services every day.
Every Thursday morning for the past year, Delvar Dopson would drive his garbage truck down little Brooklyn Andracke's street. Dopson would honk his horn and flash his headlights, and the toddler would smile and wave.
"It was really cute," Delvar says. "I would tell my wife about it every week."
One day in April after Brooklyn's birthday, Dopson arrived to find Brooklyn and her mom waiting on the curb. Turns out the little girl wanted to share one of her birthday cupcakes with her friend.
"I pulled over and got out of my vehicle," Delvar says. "She was looking at me like I was Superman. Her mom said, 'I just want to thank you for what you do every Thursday. You make my daughter's day.' I told her the feeling is mutual. I don't have children of my own, so it means a lot to me to put a smile on her face."
The resulting photo became a global Internet sensation. In the weeks that followed, Dopson appeared on Good Morning America and Inside Edition, was interviewed by reporters as far away as Japan, and got notes and tweets from celebrities, athletes and politicians. Everyone wanted to share the heartwarming connection between the little girl and the garbage man.
"It's cool because it's not about me, it's about being kind and generous and humble," Delvar says. "We get so busy in this world that I just hope people are inspired to take your time, slow down and recognize others for who they are. If stories like this can be shared, these interactions between people will happen more often."
Of course, public service workers are frequently overlooked and their service is taken for granted. That's never truer than for the men and women who handle all the things we throw away.
"Sanitation is one of those things people don't think about," Delvar says. "To them it's like magic, you just take it out to the curb and when they get home, they expect it to be dumped. There's no thought process as to how that gets done or the people that make it happen. It's not a respected job, but I believe that America was really built on folks like us who work with our hands and do the jobs that people don't think about. I think my story shows that even the garbage man is valuable as a person."
For Delvar, he hopes his connection with little Brooklyn offers a lesson in how we all can better get along.
"I have to say it: I'm a black man, I'm 6 foot 3 and I have dreads. I might be unapproachable to some white people, especially a white woman. But this is a family that's teaching their little girl not to see any of those barriers, of class, race, gender or anything. I want to lift up that parenting as an example, more than anything I've done."