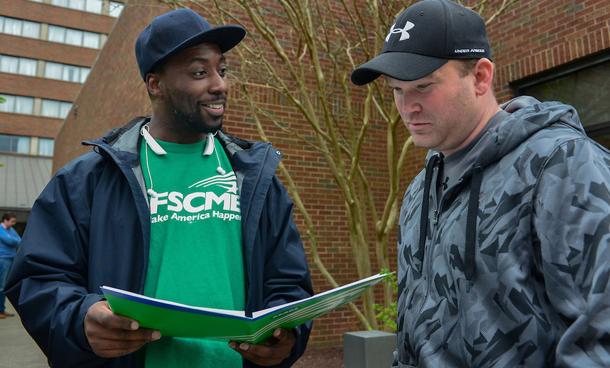 Corey Upchurch and his family came up in transportation.
His father was a manager at the Department of Transportation of the Washington, DC, Office of the State Superintendent of Education. He worked there for 32 years. His mother started out as a bus attendant, moved to dispatch, and then worked as routing and scheduling manager. She, too, had a long career in transportation.
His brother, Andrew Washington, started his career in transportation back in 1992. Now he is the executive director of AFSCME Council 20.
"Transportation came home to our dinner table every night, as I was coming up," Upchurch says.
Upchurch, 36, is a school bus driver in Washington, DC, his hometown. He started his career in 1999, and became active with his union, AFSCME Local 1959, as an organizer. He's also a Volunteer Member Organizer. Local 1959 is composed of bus drivers and attendants in DC Public Schools. Upchurch moved up to shop steward, chief shop steward, vice president, and recently became president of his local. He's also AFSCME Strong.
After taking the AFSCME Strong training in Maryland in April, Upchurch has been busy. He says he's used the summer months, when most kids are on vacation, to talk to his coworkers and apply AFSCME Strong in the workplace. He found a positive response. In three days, he signed up 49 individuals as PEOPLE contributors and got 94 to sign AFSCME Strong cards.
"I basically used the opportunity, with the help of shop stewards, to have conversations with my coworkers," Upchurch says. "When the drivers are sitting around waiting to bid on their routes, I talked to them about what we need to do to make our union stronger."
Upchurch says his biggest challenge is educating his coworkers about the vicious attacks they're facing together as a union.
"My strategy is to try to educate them, try to get them to understand what we're about, what AFSCME is about," he says. "And what's going on in other states, with the Koch brothers, with Scott Walker, and all the billionaires trying to downsize unions. I tell them about the Supreme Court, and the case involving union dues (Friedrichs v. California Teachers Association). They're trying to weaken our union."
Upchurch says the AFSCME Strong strategy is working.
"I'm extremely happy with the response," he says. "It's been a huge response. I mean, we're a rowdy local as it is, but when it's time to stand up they're willing to do that. They're not scared to stand up for what's best for unions overall."
Upchurch, who lives in DC with his three children, says he's always wanted to be a voice and make a difference in his workplace.
"I have a very strong passion in what I do," he says. "I'm still learning, but I feel as though I am making a difference in my workplace, in my local. It's all about the membership."