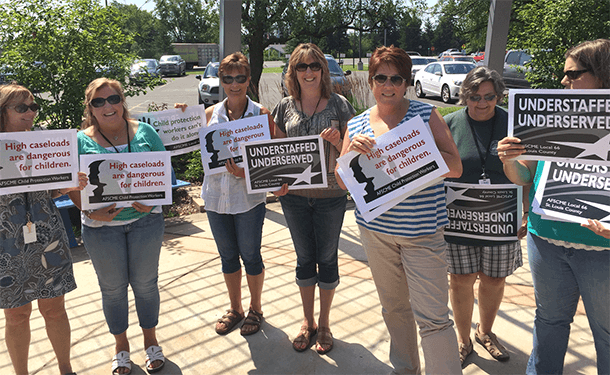 St. Louis County, Minnesota will hire 30 additional workers in its Public Health and Human Services Department and Initial Intervention Unit, to help deal with staffing shortages and heavy caseloads, following protests by AFSCME Local 66 (Council 5) members.
"We're very happy that we're getting new workers," said Kelly Crow, a child protection social worker in Hibbing. "There's a huge need, not only in our department but in other departments. This is a good start."
"It's not the solution, it's just the tip of the iceberg," added Local 66 Pres. Dennis Frazier. "It's a step in the right direction."
Commissioners acted after more than 60 AFSCME members and county workers marched in Virginia and Hibbing, carrying signs saying, "Understaffed, underserved." They drew attention to how staffing shortages and heavy caseloads are hurting workers and the children and families they serve. AFSCME members also met directly with some county commissioners, attended board meetings and screened board candidates for worker-friendly values.
"A lot of people have gotten involved in making change and realizing it's up to us to do that," Crow said.
As reported by the Duluth News Tribune, staffing shortages have gotten so serious the county's new head of Public Health and Human Services quit after just two months, citing in part a lack of resources. In northwest Minnesota, Children and Family Services workers must deal with a shortage of affordable housing, layoffs and factory shutdowns.
"We're fifth in population but first in many categories you don't want to finish first in, like opioid addiction," Frazier said. "We've got 800 kids in foster care. Referrals are up 45 percent. We've been understaffed and overwhelmed for years."
When workers learned the county was hiring more people, there was a sense of relief, said financial worker Jessica Anderson, a member of the Local 66 Executive Board and part of the Next Wave Minnesota group of young AFSCME members.
"It was such a load off. I just hope it helps relieve some of that 'Oh my God' crisis mode. I hope we can help the community in a more timely and accurate manner," Anderson said.
Financial worker Kathy Vake believes every area of Public Health and Human Services lacks enough staff. When she started working here, she and her desk partner shared a caseload of 600. Now they're at 1,100.
Local 66 plans to keep pushing for more hiring and less outsourcing to better serve children and their families. "I'm grateful for the help the county has given us, but they just need to keep doing it," said Vake.