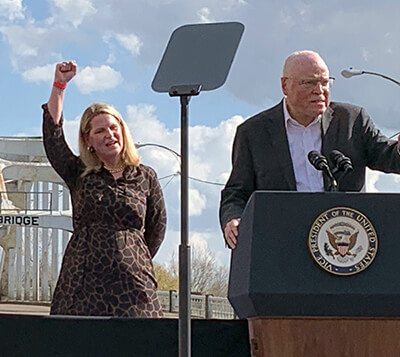 SELMA, Ala. – AFSCME President Lee Saunders traveled to Selma to commemorate the 57th anniversary of "Bloody Sunday," the infamous day when a young John Lewis and other civil rights activists were beaten and bloodied as they attempted a peaceful march to demand voting rights.
At the foot of the Edmund Pettus Bridge – the same bridge where Lewis began the march – Saunders joined with Vice President Kamala Harris, AFL-CIO President Liz Shuler, and prominent civil rights leaders on Sunday to advocate for the same thing those marchers were calling for in 1965: Free and fair access to the ballot box.
"We're here not just for a commemoration, but for a call to action," Saunders told the gathered crowd. "A call to action to protect our democracy, which is under attack today. A call to action to fight back against voter suppression today. A call to action to give every American access to the ballot box today."
Following the 2020 elections, many state legislatures and governors responded with an all-out assault on voting rights. They passed legislation that closed polling places, cut voting hours, removed ballot drop boxes, and even prohibited volunteers from handing out water to those waiting in line at the polls. By December 2021, 19 states had passed a total of 34 laws to restrict ballot access, according to the Brennan Center for Justice. This year, no fewer than 250 bills aimed at limiting voting access are up for consideration in 27 states, the group found.
In Alabama, the legislature recently banned drive-thru voting and empowered the partisan secretary of state to throw out ballots under the guise of "audits." These attacks led the Center for Election Innovation and Research to rank Alabama as "one of the most difficult places to vote" in the nation.
"We again find ourselves caught … between injustice and justice," Harris told the crowd in Selma. "Between disappointment and determination. Still in a fight to form a more perfect union. And nowhere is that more clear than when it comes to the ongoing fight to secure the freedom to vote."
After their speeches, Harris and Saunders linked arms with fellow activists and marched across the Edmund Pettus Bridge. Thousands peacefully followed them across the span.
Also on Sunday, President Joe Biden reaffirmed his administration's commitment to protecting and expanding access to the ballot box, once again calling on Congress to pass the John Lewis Voting Rights Advancement Act and the Freedom to Vote Act.
"In Selma, the blood of John Lewis and so many other courageous Americans sanctified a noble struggle," Biden said in a statement. "We are determined to honor that legacy by passing legislation to protect the right to vote and uphold the integrity of our elections."
AFSCME applauds the Biden administration for its commitment to protecting and expanding voting rights and urges Congress to pass laws that give every American the chance to be a full partner and participant in our democracy.