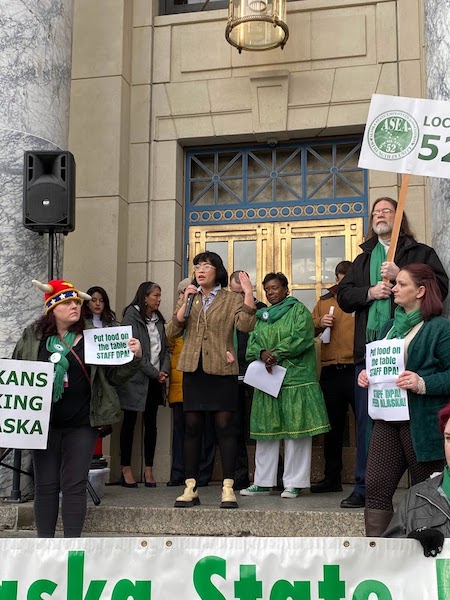 JUNEAU, Alaska — Alaska's public services are suffering because of a severe shortage of workers — and members of Alaska State Employees Association (ASEA)/AFSCME Local 52 are shining a light on this problem.
On Friday, ASEA Local 52 members held a rally in front of the Alaska Capitol to urge state lawmakers to staff the front lines quickly.
They were joined by workers, legislators and other allies to support recruitment and retention efforts for critical public sector jobs throughout Alaska. The problem is particularly acute at the state Division of Public Assistance (DPA), which has been dealing with a backlog of the Supplemental Nutrition Assistance Program (SNAP) benefits since last September.
Nationwide, more than 500,000 public sector jobs remain vacant, according to AFSCME's analysis of federal data — though the federal government has approved $350 billion in state and local aid under the AFSCME-backed American Rescue Plan. These jobs are funded and accounted for in state budgets.
In Alaska, there is a dire need to hire more public assistance eligibility technicians, children's services caseworkers, nurses and nurse aides in assisted living facilities called Pioneer Homes, and nurses and caregivers at the Alaska Psychiatric Institute, to name a small handful. The vacancy rate is a staggering 22% in just the state's Department of Health, affecting critical services Alaskans rely on every day.