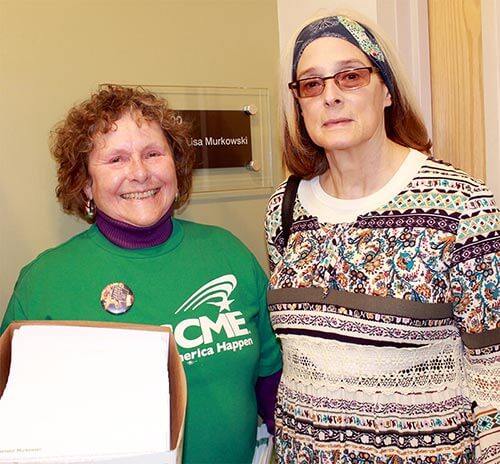 ANCHORAGE, Alaska – Members of AFSCME Retiree Chapter 52 delivered a petition with more than 600 signatures to Sen. Lisa Murkowski's office this week urging her to oppose the repeal of the Affordable Care Act (ACA). Legislation unveiled by Congress would place a cap on federal Medicaid spending, reduce tax credits, and cause millions to lose their health insurance.
Capping federal Medicaid spending would be especially harmful in Alaska, where health care costs are higher and growing faster than in any other state. If the legislation becomes law, the state will receive less of what is needed each year to provide health coverage for seniors, poor children, pregnant women, and individuals with disabilities.
"The ACA has made it where many Alaskans can access health care instead of relying on the emergency room," said Jan Carolyn Hardy, a retired state employee and secretary of Retiree Chapter 52. As an employee of the Department of Labor, Hardy helped residents find job training and employment.
"We have to protect Medicare and Medicaid to honor the pioneers who built this state," she said. "If it weren't for seniors working hard, many people wouldn't be able to live here today."