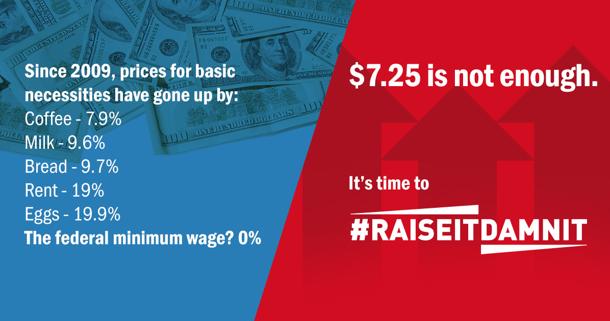 It's now been seven years since the federal hourly minimum wage was raised to $7.25. Since 2009, the cost of living has risen by 11 percent—but many workers are stuck with the same paltry paycheck.
Last year, 2.6 million hourly workers earned wages at or below the $7.25 minimum. More than half were older than 25. For minimum wage workers, even basics like housing are out of reach. If the minimum wage were raised by just 10 percent, the number of people living in poverty in the United States would be reduced by 2.4 percent.
In fact, the minimum wage would need to rise by nearly 25 percent to match the purchasing power of the 1960s wage. During that same period, CEO salaries have increased by more than 700 percent.
If you work, you should make enough to make ends meet. Nobody can support themselves or a family on only $170 a week. The Coalition of Labor Union Women and allied organizations are drawing attention to the outdated minimum wage with the hashtag #RaiseItDamnIt. Please take the opportunity to contact your elected representatives and demand a raise for America's low-wage workers.