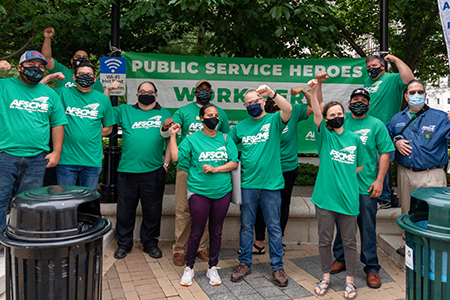 ARLINGTON, Va. – The Arlington County Board voted unanimously Saturday to expand county employees' workplace rights for the first time in more than 40 years, becoming only the second jurisdiction in Virginia to do so following the passage of a state collective bargaining law.
This ordinance grants public employees the right to bargain over workplace issues. Workers will also now be able to form a union and negotiate a binding contract, giving employees and administration a formal and legal process to collaborate. The ordinance will include over two-thirds of all Arlington County employees and eligible temporary workers.
"I am glad the board was so committed to not only developing a collective bargaining ordinance, but to actively seeking employee insight," said Amos McCall, an equipment operator for the county who has been a union member throughout his almost 40-year career as a public service professional across the country. "This is an ordinance both the administration and employees can be proud of." 
McCall was one of many workers who spoke to county board members in support of the ordinance during a series of Monday meetings in the last few months. McCall and his co-workers advocated for a strong ordinance through AFSCME Virginia.
Workers pushed for the ordinance to secure the right to join together in a union and have the freedom to negotiate the issues that affect their working lives. Also, they wanted similar rights to public employees in the District of Columbia and Maryland.
AFSCME, the International Association of Fire Fighters and the Arlington Coalition of Police have been in discussions for many months with the county board since the board passed a resolution to adopt an ordinance. Like the city of Alexandria, Arlington County management initially sought a narrow ordinance only allowing public workers to negotiate for a specific set of issues.
Both ordinances were broadened in scope to give employees the right to bargain for almost all workplace-related issues. The Arlington County also includes bargaining units that respect the diverse job titles and classifications of employees across the jurisdiction.
"Every person working to make their community safer, stronger and better deserves respect, and that respect is a full and meaningful voice on the job," said Robert Hollingsworth, executive director for AFSCME District Council 20, which represents hundreds of Arlington County employees.
He joined almost 60 county employees early Saturday in addressing the board.
"This is an important moment of great promise and possibility for public workers across Virginia," he said. "Arlington County and Northern Virginia will be the model for what public sector collective bargaining in Virginia looks like."